2018 Microgrant Recipients
MICROGRANTS HOME | 2018 RECIPIENTS | 2017
---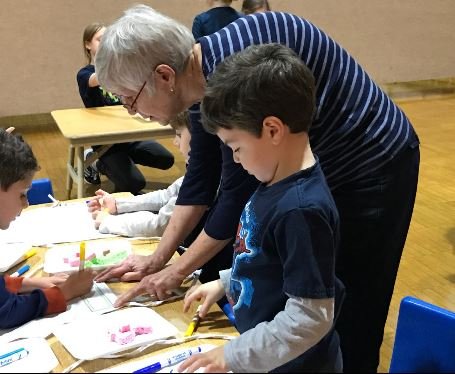 For the past three years, The Jewish Education Project has offered Microgrants to support organizations  moving innovative ideas from thought to action.  In the first two years of these grants, $500-$2500 has been distributed to over 50 organizations.
This year, our third year offering Microgrants, The Jewish Education Project received an unprecedented number of applications. Over 100 highly qualified applications were submitted from Day Schools and Yeshivas, Russian-speaking Jewish communities, Early Childhood and Family Engagement sites, and Part-time Jewish educational institutions.
A taskforce of lay leaders and professionals embarked on an arduous review and selection process. All applications reflected inspiring efforts, making the selection process extremely competitive. To receive a Microgrant, all organizations must have 501(c)3 status and work within our catchment area of New York City, Long Island, or Westchester County. One exciting development this year, is the rise in applications submitted by a group of organizations collaboratively. As a result, we distributed between $500 - $2500 to well over 50 organizations this year.
Grant recipients are responsible for a brief report, project documentation, and financial reporting. All grant recipients are given two coaching sessions from The Jewish Education Project staff. 
Grants were awarded based on the following criteria:
Level of innovation
Impact
Quality of content
Feasibility
Leadership

Our 2017-2018 Grants Highlight the Following Areas:
Collaboration between institutions
Bridging: focused on bridging the gaps between early childhood and congregational learning, tweens and teens, or between schools.
Israel Education
Exploring diversity within Jewish communities
Leadership
Family Engagement
Nature Education
Spirituality/Prayer
Health and Wellness
Generation Now Educational Outcomes: Actualizing educational outcomes as articulated in the Generation Now report.
Russian-speaking Jewish Community

Important Dates
The grant award must be used by Friday, June 30, 2018. 
Grant recipients are required to attend an end of the year reception on Tuesday, June 5th at 3:30pm at our NYC office to network and share their success with others.
 
---

Case Study of Westchester Jewish Center
The impact of microgrants can be felt in many ways and in multiple stages. One example of this impact is at Westchester Jewish Center - WJC, a three-time Microgrant awardee. For Aleza Kulp, Education Director at WJC, continuous engagement frames all ages and stages. Each year, her microgrants have been designed to address and impact some of those stages.  
Her first microgrant, A Taste of Hebrew School, was designed for nursery school students to see what it is like to be part of the Hebrew school and encourage enrollment into the next step of the WJC continuous engagement experience. It was a resounding success. Now, A Taste of Hebrew School is an important staple of their engagement vision.   

For the second year, WJC applied for a microgrant to continue the vertical integration of families from the nursery program to Hebrew school. They created community experiences involving the families in two mindfulness excursions by a naturalist specialist. Again, a resounding success.  

In year three, to ensure continuation post Bar/Bat Mitzvah, WJC was awarded a microgrant for a Tween/Teen Shabbaton to create an intensive bonding experience which will act as a foundational catalyst for continuous engagement. Stay tuned!
WJC's intentional use of microgrants is a terrific example of the potential impact and ripple effect this grant program can have.
 
---

For more information, please email Shoshana Weiner at sweiner@JewishEdProject.org