Annual Yeshiva Day School Science Olympiad 2018
Lander College for Men
75-31 150th Street
Flushing, NY 11367
United States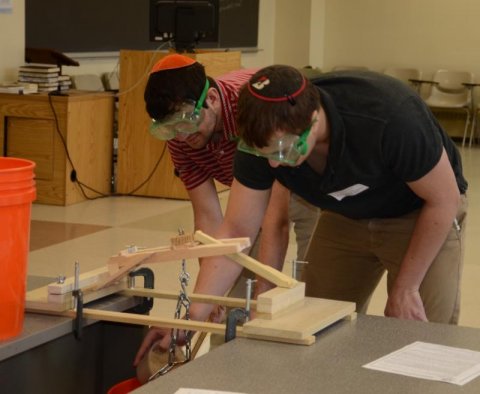 Registration Fee: $250
Registration and Payment due by November 15th
The Jewish Education Project and the Lander College for Men are pleased to announce the dates for The Jewish Education Project-Lander College Science Olympiad 2018. This Olympiad provides the opportunity for high school students in yeshivas and day schools to compete in events that test both knowledge and skills associated with science, engineering, and technology.
The Science Olympiad will consist of twelve events drawn from National Science Olympiad publications and will address various aspects of biology, chemistry, earth science, physics, and applications of engineering and technology. General event information is available through the National Science Olympiad web site, and the New York State Science Olympiad web site. An event manual with descriptions of the events will be sent to all schools that register.
Some guidelines for registering your team:
Each team should consist of 15 students, grades 9 – 12, with a maximum of seven 12th graders (all team members must be registered students at your school).
In addition to the 15 team members, each school may bring two students to serve as "team managers."
Each school is required to provide two coaches on the day of the Olympiad. These coaches will be assigned to supervise or assist with supervising, the events at the Olympiad. In addition, it is highly recommended that at least one other adult (teacher, administrator, or parent) accompany the team to assist with supervision of the team during the day.
Only event supervisors and participating students will be permitted to enter event rooms. Visitors and spectators will only be permitted to view the testing of open events.

Any questions should be directed to Laurie McMillen.