Raising Resilient Children: A Webinar for Early Childhood Educators
520 8th Avenue
15th Floor
New York, NY 10018
United States
Webinar with Jean Schreiber
Do you wonder:
How to support your students' self esteem?
How children gain resiliency?
How to foster self suffieciency?
How to encourage risk taking?
As Jews, resiliency has been the cornerstone that has led to our surviving and thriving. Yet today, many of our children and teens are exhibiting an alarming increase in anxiety, depression and lack of coping skills. There are many factors that contribute to this, many of which begin in early childhood. It is our responsibility as Jewish early childhood educators to deepen our understanding of how young children become resilient, and to identify and strengthen strategies, and the Jewish experiences that help build confidence, grit, and healthy self-esteem.  

Join us for this webinar with early childhood educational consultant Jean Schreiber to explore ways that you, as an early childhood educator, can support young children in their journey towards resiliency and healthy self-esteem. Learn classroom techniques to give children power (just the right amount), protection (but not overprotection), predictability (but not rigidity), and praise for effort and process (rather than product). The session will also address supportive ways to partner with parents who are struggling at home with challenging behaviors.
---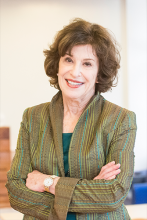 Jean Schreiber is an early childhood educational consultant who, for over two decades, has developed and directed early childhood programs and parenting centers. She earned her M.S. in Early Childhood Education from Bank Street College of Education where she is an instructor in the Continuing Professional Studies Program. An engaging and highly informative speaker, Jean presents her workshops across the country on topics such as fostering the social and emotional development of young children, creating developmentally appropriate classroom experiences and supporting the emotional and professional growth of parents and educators. She serves as a consultant to a wide variety of early childhood and elementary school programs and provides guidance to parents in both individual and group settings.
You can find her most recent article Fostering Social and Emotional Development in the Dramatic Play Corner on communityplaythings.com
Visit www.jeanschreiber.com to learn more about her presentations and publications.
---