High School Summer 2018 Workshop Series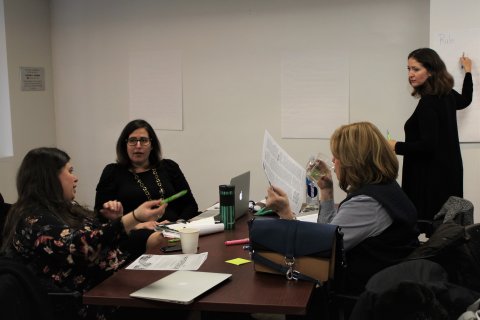 Browse several workshops available this summer. Topics include Math, Science and Assessments for teachers of grades 9-12. Learn and network with your peers. Find the right workshop for you and improve your skills in order to enhance the next school year.
​Space is limited, so register today! 
Click on any of the workshop titles below to learn more or on the register button to sign up, or you can find the Elementary School Workshops here.
All workshops are open to NY schools only. 
Registration for all workshops is now closed. Check back here for Summer 2019!
Registration Deadline: June 15th
---
Assessment in Math: Grades 9-12
July 9th-10th
Anshe Sfard
Cost: Free

Assessment in Science: Grades 9-12
July 11th-12th
Anshe Sfard
Cost: Free

Adaptive Skills Curriculum for High School Students with Special Needs
This workshop has been cancelled. 
July 12th
The Jewish Education Project
Cost: $18
High School Math Check in
July 18th
Anshe Sfard
Cost: Free
English Literacy Workshop
This workshop has been cancelled. 
July 31st
The Jewish Education Project
Cost: $36
Social Studies Workshop
This workshop has been cancelled. 
August 1st
The Jewish Education Project
Cost: $36
All workshops have a cost, unless otherwise indicated. No one will be turned down due to cost. If you have any issues making a payment in full, please email Judy Oppenheim.
A Cholov Yisroel meal will be served with each workshop. 
Any further questions should be directed to Elana Betaharon.