Ed Techies Network
Facilitator: Tatyana Dvorkin
Format: Hybrid (includes some virtual)
Description:
Participants will explore ways to apply technology to curriculum in meaningful ways in service of student-centered learning. Together, we will discuss our experiences with technology in the classroom and support each other in figuring out what learning challenges we can address by drawing on technological applications, websites, social media, games, and more. We will learn about new tools and apps and how they can be used across grades and subjects. Regardless of whether you are brand new to using technology in the classroom and want to learn, or whether you are an experienced pro who wants to grow their personal learning network and collaborate with educators at other schools, this is the home for your ed tech exploration! All skill levels are welcome.
Additional information:
This network is aimed at day school classroom educators. This Network is also open to educators in the New Jersey and Connecticut (the Tri-State area).
About the facilitator:
Tatyana Dvorkin has 11 years of experience in education, having taught in the classroom, designed educational games and software, and provided tech integration support and curriculum design at a private PreK-12 school in Manhattan. She earned an M.A. in Instructional Technology and Media from Teachers College, Columbia University where she did research on using games and social media for literacy development.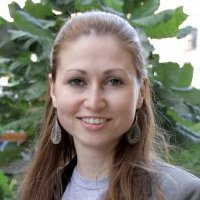 Dates:
October 10, November 14, (2019) January 16 (virtual), March 6, April 10, May 15
Designed for:
Educator / Teacher / Youth Professional
Format:
Hybrid (includes some virtual)
Geographic Region:
Bronx
Brooklyn
Long Island
Manhattan
Queens
Staten Island
Westchester