Whole School Innovation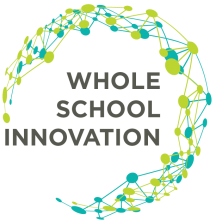 Based on site visits, conversations with heads of school and year-round work with hundreds of day school educators and leaders, The Jewish Education Project strongly believes that many day schools and yeshivas are ready to initiate large-scale plans to transform their culture in ways that will have a lasting impact on their students and their entire school community. Increasingly, Jewish day school and yeshiva leaders, teachers and administrators, are seeking on-going professional development that focuses on student engagement, higher order thinking and promoting positive school culture. While this process is resource intensive in terms of time commitment and financial investment, The Jewish Education Project embraces the responsibility to guide schools toward continuous improvement as demonstrated by student outcomes and supported by real-time data.
 
The Jewish Education Project is proud to partner with ICLE (International Center for Leadership in Education), a division of Houghton Mifflin Harcourt, to introduce Whole School Innovation, an intensive 4-6 month needs assessment process followed by a year-long, data-driven professional development program.  Whole School Innovation empowers school leaders, through access to data and professional learning, to understand their school's strengths and challenges. The Jewish Education Project's professional development staff and ICLE consultants will work with each school's leadership team to develop a strategic plan that includes short-term and long-term goals for school growth in General Studies, based on the comprehensive data in the Needs Assessment Report.
 
Beginning with a cohort of five schools, ICLE will work collaboratively with The Jewish Education Project to guide participating schools through a four-phase Whole School Innovation process, collecting data from all members of each school's community, including students, teachers, parents and board members. This research-based process integrates best practices and strategies used by districts and schools across the nation to transform educational practice and student outcomes.
We are currently exploring the possibility of expanding Whole School Innovation to Judaic Studies as well.
 
Participating Schools:
Bais Yaakov Academy for Girls
Yeshiva Derech Hatorah 
Yeshiva Har Torah
Yeshiva Rabbi Samson Raphael Hirsch
Sinai Academy
Yeshiva Sha'Arei Zion
Yeshivat Shaare Torah Girls Elementary School
Yeshiva Tiferes Moshe
Yeshiva of Flatbush
Mazel Day School
Bais Yaakov of the Lower East Side 
Bnos Malka Academy
Kinneret Day School
Collect data to inform school improvement plans
Gain insight into how students and staff perceive levels of rigor, relevance, and relationships in the school
Prioritization of goals to build system-wide capacity
Develop the direction for increasing student achievement
Alignment of assets and resources to the highest priority goals
Assignment of roles, responsibilities, timelines, and budgets to drive improvement efforts
Development of a communication and continuous improvement systems to ensure that the plan drives day-to-day decisions at the school level
Design and pilot new instructional models
Redesign and improve existing instructional models
Identify processes and resources that enable implementation of new and redesigned learning
This initiative is funded by Federal Title IIA funds, made available through the NYC Department of Education Division of Nonpublic Schools (DNPS).