Educator Spotlight: Blending Robotics into the Classroom with Genie Bensimon
In this Educator Spotlight, one of DJLN's JBlend Miami participants shares how she was inspired to integrate a makerspace into blended learning.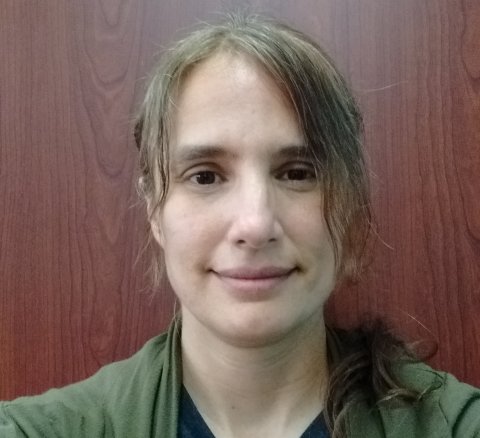 Eugenie "Genie" Bensimon was born and raised in Brooklyn, New York and completed her Bachelor's degree in Psychology at Florida International University. She then worked as a therapeutic teacher, crisis case manager, and social worker. However, her true passion is education and, for about fifteen years, she worked in early childhood education. She also worked in a special education program for teenagers for two years. After obtaining her teaching certification, Genie began working at the elementary level, and this is her fifth year teaching third grade at Hebrew Academy (RASG). Through CAJE, she has been taking part in the JBlend Miami blended learning academy and the Miami Yerucham Robotic Initiative program. In conjunction with the blended model, Genie has been implementing an engineering curriculum with her students.

When did you realize you wanted to be a teacher?
I've wanted to be a teacher since I was very young. I always had a passion for it; in school, I wanted to be the teacher when we played games.

What have been the highlights of participating in JBlend Miami?
The team from our school has been attending meetings and learning through the workshops. I've been able to communicate more with teachers from my own school as well as with teachers from the other schools. It's a good way to share ideas and learn to work with data and provide better opportunities for our students. I have come away with so much. I'm trying to use all of the information and strategies to best meet the needs of the students in my class.
Being part of JBlend really encourages us to reach out to other teachers. I have a middle school teacher, Mrs. Jennifer Ohana, whom I can bounce ideas off of, and I can go to her and say I'm having a challenge and she's able to say, "Why don't we try this?" It's great getting someone else's perspective because we're all on the same team. We're all there for the students.

What element from JBlend Miami are you most excited about putting into practice?
The workshop on data at JBlend was not just about the technology, but answered questions like "What does a blended class look like?" and "What do I do with data?" We went through how to look at data and how to use it, so I'm eager and very excited to do that with iReady, which we use for math and reading. JBlend also showed us how to use different tools so we could then use any program we felt comfortable with at our school. So we learned how to collect data, analyze it, set up different centers based on the data, and how to encourage students who are struggling and challenge those who are excelling. We discussed how to individualize the learning for every student--that's what I've been able to bring back and share with my colleagues.

I heard that our video Bringing the Maker Movement into Your Blended Classroom influenced how you implement blended learning in your classroom. Can you tell me more about that?
We had already been doing robotics and engineering, but the video inspired me to bring makerspace and blended learning together. I became really motivated to look for more ways to use robotics alongside blended learning. The video also inspired me to look at the data more closely. The center where students work on a blended learning program is always important because it gives me the real-time data which I could use to better meet the needs of my students. The information tells me where they need help and where they need to be challenged. Another center is for collaboration where the students work together on problem-solving to extend their learning. For example, they collaborated on building bridges and connected that to the math concepts that would make the bridge sturdy. There's also a math game center where they might be measuring, counting, and multiplying. I'll sit with some of the kids in a teacher-guided review group center. It's always important to check in with them in a small group or individually. I use the data, but it's also important to hear what they're saying to get the big picture of how they're doing. I'll also float around to guide and encourage them, asking questions to help them think more deeply. Sometimes they just need a "Why?" or "What do you think would happen if…?" to encourage them to figure things out.
Then, of course, there's the robotics or makerspace center. I saw that the students were not grasping difficult concepts, so the makerspace gives them hands-on activities to work on those skills. Certain concepts students just learn better with hands-on activities. Some needed to work on measurement, so they measured how far a toy car would go. Some needed to work on estimating, so they programmed the car and predicted how far it would go at different speeds. They were excited because they programmed it to go a certain distance without knocking something over - it was a lot of fun for them! Other students were taking measurements and working on rounding skills. With all these active centers, the classroom is very busy; there's lots of movement and you'll hear the kids cheering when they're excelling at something. Instead of learning these math concepts through reading a book, they're learning them through robotics, and I know what activities they should do based on the data. It's looking at the individual child and seeing if the student needs help in a particular area.

What advantages do you see in using blended learning and technology in your classroom?
We're better able to meet the needs of each student because the computer programs (Mathletics and iReady) allow students to work at their own pace. If they need to review, we can target the specific needs they have. They can also move along if they want to. All the formative assessment information helps me to set up my lessons. Blended learning is very beneficial for language arts as well. I've been using data from Raz-Kids, which lets me see where they need to be challenged and helps me to create groups. Raz Kids has different types of reading materials, and I can give them different level books to read. At another language arts center, they worked on Book Creator collaboratively to come up with and write their own digital story. Working with sample data during JBlend Miami prepared us to implement the tools in the classroom. It gave us the familiarity we needed so that when we got data from the diagnostic test the children took, it was already so familiar and I knew what I needed to look for and to focus on certain areas. iReady will be easier to work with now.

What have been your students' reactions to blended learning?
In the beginning, we reviewed taking care of the equipment, and they've been very good about it, but this is their world, so they're very comfortable and eager. Every day they want to jump in. They're very receptive to it and learned the routine quickly. Now they love writing stories in Book Creator and including videos and pictures. They're proud of themselves and their work.

What have been some challenges with implementing innovation in the classroom and how have you overcome them?
The normal challenges with technology - when something doesn't work and you really wanted it to work that day. You always need a backup plan to keep things running smoothly. Being in touch with the tech department so they can resolve issues quickly is important as well. Having the students know what to do was also a challenge. Having clear expectations is very important. At the beginning, I would tell them all their options, but I learned that when giving them choices, all the different activities they can do need to be posted in the classroom. So if we're doing language arts and reading, but they want to do some writing, then they'll know they can do a collaborative writing project and can do the reading later. Some days they just feel inspired to write and you don't want to take that away from them. Allowing that flexibility is important.

What's been most rewarding about your time teaching with technology and blended learning?
We did a unit on graphing, and there were students struggling to make graphs and collect data, so I made it really fun for them. They did a project in which they had to program a robot at different speeds and make a prediction so it would get as close to a glue stick as possible without knocking it down. For those who were having a hard time collecting data and making graphs, this was a way to get them engaged. They actually programmed the robot and then graphed their predictions on how far it went at 2, 4, and 6 seconds. It was hands-on so they could really see it. They made bar graphs for how far the robot actually went. For students who needed a challenge, I introduced the concept of gears and they learned about gearing up and gearing down and then could program the robot differently. This whole project was straight from the data I saw; some students were having a hard time with graphing and collecting information and others needed a challenge. I was able to challenge some and help those who were struggling. It was nice because it really brought it all together in one lesson and made it so visual. I really love being able to connect the math concepts to actual robotics lessons.
Yonah Kirschner, former Project Manager, Digital Content and Communications at The Jewish Education Project.