Racial Justice: Responding to the Moment and Beyond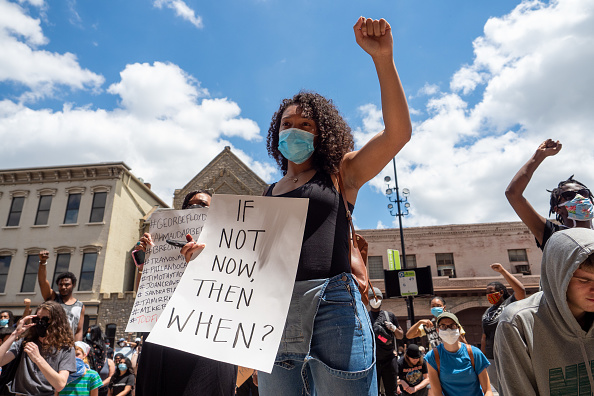 The murders of George Floyd, Ahmaud Arbery, and Breonna Taylor have once again brought to the fore issues of systemic racism within this country and raised critical topics for our children/students. In our effort to support educators, we share this collection of resources with the recommendation that they be viewed through three intersecting but distinct lenses that we believe can help frame our learning and action.
Tzedek Tzedek Tirdof: Education in Pursuit of Racial Justice
How does the Jewish tradition and community manifest and actualize its value of Tzedek, Justice, in relation to racism and related societal inequities?
Diversity and Jewish Education
What is the diversity within our Jewish community and how do we improve/increase education about and the engagement of ALL individuals within our community?
Engaging with Complexity in Jewish Education
How do we help our learners develop the skills to consider, engage with, and respond to complex topics and questions?
If you have comments, questions, or other resources to recommend, please send them to onlineresources@jewishedproject.org.
 
---
Featured Resources
TEACHING
Reflecting on George Floyd's Death and Police Violence Towards Black Americans | Facing History and Ourselves
This Teaching Idea is a guide for teachers to begin conversations with their students about George Floyd's death and the events that surround it. Such conversations are always difficult for teachers to facilitate, and distance learning presents added challenges to teaching sensitive material.
Reading with Be'chol Lashon: Let's Talk About Race | Be'chol Lashon/GlobalJews.org
Let's Talk About Race, written by Julius Lester, helps children better understand themselves and others. Appropriate for ages 4-8. Included is a link to a video reading of the book, a Discussion Guide for children focusing on Jews of color, and a worksheet template for children.
The 1619 Project | New York Times Magazine
Marking 400 years since slavery first began in America, the series of articles, podcasts, and teaching resources, led by MacArthur Genius Award recipient Nikole Hannah-Jones "examines the ways the legacy of slavery continues to shape our country."

ARTICLES TO DISCUSS | Voices of Color
ENGAGE
Clint Smith, above at TED (5:13) and below, at Jewish Futures (24:10).
For Educators, Teens, Families, and Our Community
For Teens

For Families with Young Children
Pinterest Boards Collections by The Jewish Education Project ECC and Family Engagement
Books
Anti-Biased Leaders in Early Childhood Education: A Guide to Change
How Black Art Can Spark Conversations with Children | PBS
Dr. Aisha White is the director of the P.R.I.D.E. (Positive Racial Identity Development in Early Education) Program at the University of Pittsburgh Office of Child Development. 
 
Talking to Children
Talking to Kids About Police Violence | Repair The World
A guide and resources for children of different ages.
On COVID, protests, and supporting our kids! | EmbraceRace 
Their recent newsletter highlights some of their most important resources. EmbraceRace was founded in 2016 by two parents (one Black, the other multiracial Black/White) to gather the resources and create the community they needed to meet the challenge of raising children in a world where race matters. 
 
Articles/Media to discuss
For all of us: Other Resource Collections
Independent Google Doc collections of resources
For all of us: Singular/Exemplar Resources
Avodah: In Memory of George Floyd | Statement and educational/action resources
Torat Chayim: Statement on the Death of George Floyd (includes links to The 2020 Uri L'Tzedek Anti-Racism Campaign)
A new association of pluralistic and progressive Orthodox Rabbis.
JEWTINA y Co.
An organization and website that foregrounds the stories and experiences from the Jewish-Latinx community (appropriate for teens+).
Judaism Unbound Podcast: Episodes on Social and Racial Justice
Mike Brown Niggun - Koach Baruch Frazier
Dr. Koach Frazier, a black Jew, was one of Avodah's featured speakers. Posted by Rabbi Micah Shapiro of Penn Hillel: "As a Jewish community, we must not stay silent for so many reasons, just one being the profound presence of black Jews in Jewish life. My colleague and teacher Koach Baruch Frazier puts into melody what words are unable to express: communal resilience, collective grief, determination for a country that doesn't trample over black and brown bodies."
Ben & Jerry's
An example of what corporations are capable of if they are willing to take a stand. Teaching and learning with these resources can be powerful for teens and adults (and lovers of ice cream).
---

This collection of resources will continue to be updated in the days, weeks, and months to come. If you have comments, questions, or other resources to recommend, please send them to onlineresources@jewishedproject.org.