The Jewish Education Project 2017 Benefit
BENEFIT HOME | HONOREES | YOUNG PIONEERS | SCROLL OF HONOR
---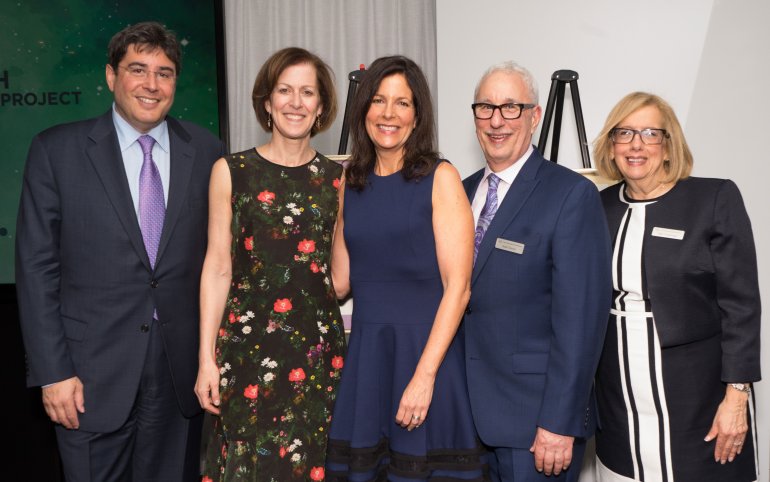 Left to right: Eric S. Goldstein, CEO of UJA-Federation of New York; Alisa R. Doctoroff and Tara Slone-Goldstein, honorees; Robert Sherman, CEO, and Deb Friedman, Chief Officer for Institutional Advancement at The Jewish Education Project.

THANKS A MILLION!
Thank you for a beautiful and memorable evening celebrating our honorees, Alisa R. Doctoroff and Tara Slone-Goldstein, and our 2017 Young Pioneers Award recipients.

With your generous support, we surpassed our $1 million fundraising goal!
Together we provide thousands of educators and lay leaders with new ideas, skills and invaluable networks to inspire Jewish children and families as they navigate our rapidly changing world.
honoring:
Alisa R. Doctoroff for her integrity, intelligence, generosity and passionate commitment to Jewish education and to the building of an inspired and inspiring Jewish community
Tara Slone-Goldstein for providing unflagging energy, sharp insight, focus and tenacity as President of the Board and leading The Jewish Education Project to flourish for the past three years 
And introducing our 2017 Young Pioneers Award Recipients:
Sara Duani, Yeshiva Har Torah, Eliana Light, Park Avenue Synagogue, Adam Metzger, JCC Manhattan, Andrew Paull, BBYO and Rabbi Mara Young, Woodlands Community Temple.
 
---
Benefit Chairs
 
 
Lois Kohn-Claar

Linda Mirels
 
John M. Shapiro

Dorothy Tananbaum

Honorary Committee
 
 

Daniel L. Doctoroff
Jacob Doctoroff
Ariel Doctoroff
Jenna Doctoroff
Judy & Arthur Robbins

 
Wayne Goldstein
Zachary Goldstein
Joshua Goldstein
Adam Goldstein
Merry & Richard Slone
Bobbie & Marty Goldstein