Board Reflection: Karen Everett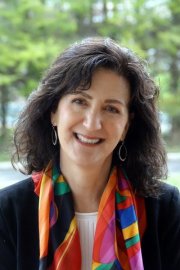 We've talked before about the importance of using a personal, authentic voice to connect with others when we are speaking about The Jewish Education Project – to engage, to solicit support, or just to explain why we are committed to this work. So as my reflection, I have decided to share my own personal story.
I grew up in Atlanta in the '60s and '70s. We belonged to The Temple--of Driving Miss Daisy fame--until, when I was 8 years old, my parents joined with nine other families to break off with the then-assistant rabbi and form the city's second Reform temple, Temple Sinai. This was done with the blessing of The Temple's head rabbi. So, I come from an actively Jewish, Reform-observant family.
At that time, Reform Jews did not have b'nai mitzvah; we learned the aleph-bet, but that was about it. There were no community or Reform or even Conservative day schools. When my parents could afford to finally "escape" the public school system, they sent us to the finest prep schools, which were Christian. I grew up with required attendance at daily chapel services and mandatory New Testament courses. Even the Old Testament was taught through the lens of how it foretells the coming of Jesus Christ. Passover was about giving up bread and crackers--nothing else--and seders included a big, delicious Passover ham after the matzoh ball soup. I did attend Jewish camp – Camp Vega, in Maine, but the only Jewish observance was a bonfire on Friday nights, and we had to wear all-white to dinner.
To my mother, I am intermarried. My husband was raised Conservative, went to day school, and kept kosher. When we were planning our wedding in Savannah, Georgia, not being able to serve shrimp and crab was an issue, as was our insistence that we have kippot. At that time, certainly in Reform temples in the South, kippot were just a little too Jewish.
Fast forward to 1995: We had moved to Larchmont, had two little boys, ages 2 and 4, who attended our Conservative shul's nursery school, and we lit candles and said kiddush and motzi regularly on Friday nights. As we considered kindergarten for my older son, my husband just assumed he would attend the local public school. After all, we chose Larchmont in large part for its excellent public schools. But I began to feel insecure about my ability to impart a strong sense of Jewish identity to my kids.
I was not well-schooled in Jewish traditions, history, and knowledge. I still knew more about being Presbyterian than about being Jewish.
Jewish education has to be engaging and appealing to be successful. It has to change with the times and meet our children where they are.
It was this insecurity, and my determination to give my kids the Jewish education that I lacked, that led us to choose Schechter Westchester, and send our children to Jewish camps and to Israel. Jewish education is a critical component of keeping our children in the Tribe.
BUT that education has to be engaging and appealing to be successful. It has to change with the times and meet our children where they are. And that is why I support The Jewish Education Project; that is why I said YES when Tara asked me to join the Board. In this wide-open, pluralistic, global world in which we live, connecting with Jewish children and families and providing Jewish educational experiences that improve and enrich their lives is critical for our future.
And The Jewish Education Project is leading the charge.
Karen Everett is a Principal at the marketing and branding firm Marketing Matters Ltd. Committed to serving her community and the Jewish people, Karen has held local, regional, and national Board positions at Hadassah, and served as Trustee, member of the Executive Committee, and chair of the Marketing Committee of the Board of Schechter Westchester. She is Co-Chair of the Government Relations Committee of UJA-Federation of NY/Westchester. Karen serves on the Board and Executive Committee of The Jewish Education Project, and chairs the Marketing Communications Committee and Strategic Expansion Task Force. She holds degrees from Princeton University and The New York School of Interior Design.