In-SITE-ful Journey: Playworker Training on Governors Island
40 Barry Road
New York City, NY 10004
United States
FEE: $30 | BYO PICNIC LUNCH
We are combining our successful In-site-ful Journey site visit format for early childhood professionals with this special opportunity on Governors Island.
The Playworker Training offered by play:groundNYC, Inc. is an intensive workshop providing participants with an introduction to the theories and experiences of playworking. Led by Yoni Kallai, this workshop will provide educators the opportunity to learn how to design and facilitate more self-directed play experiences in their school with attention towards providing children with manageable risk-taking. Participants will learn through lectures, discussions, and play in their loose parts playground.
Examine playwork theories and begin to build a shared vocabulary with colleagues
Learn how to work with children in ways that are uniquely reflective, process-oriented and non-judgmental
Discuss key questions about risk, privacy and freedom in children's self-directed play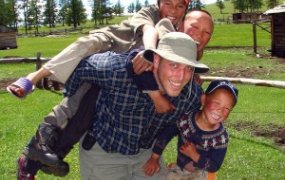 Yoni Kallai is the Head Playworker at play:groundNYC. Yoni was born and raised in Jerusalem, Israel, then moved to Brooklyn to perform and teach circus. Coming across the concept of adventure playgrounds he was immediately drawn. He joined Alex Khost and Eve Mosher who started play:groundNYC, to bring child led adventure play to NYC. Yoni, a founding play:groundNYC board member, became one of the first playworkers for play:groundNYC. Passionate and committed to the philosophy and principles of playwork, Yoni is always reflecting and fine tuning his practice.
Yoni has worked as a playworker both under Morgan Leichter-Saxby of Pop-Up Adventure Play and Luke Michael Sutton, formally from the The Land. Yoni leads workshop experiences for both educators and parents. This includes the Brooklyn Children's Museum where he trained and advised staff on operating a space using playwork principles. Yoni has also lead parent workshops bringing the principles of playwork into the daily lives of NYC families. Yoni is eager to share the insights of playwork with as many adults as possible and hopes that one day this job will not be needed in the world.
We are excited to offer this kick-off to a year long focus on guiding children's play outdoors. Educators, nature specialists, and school directors are invited to continue the learning by joining the nature-based network starting in the Fall. Please contact Shariee Calderone for more information about this network opportunity for you or your school.