The Resilient Child: Strategies for Social-Emotional Well-Being - Long Island Conference
Temple Beth Sholom
401 Roslyn Rd
Roslyn Heights, NY 11577
United States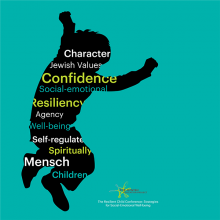 As Jews, resiliency has been the cornerstone that has led to our surviving and thriving. Early Childhood educators support young children's  resiliency in all aspects of their lives - physically, cognitively, socially, spiritually, and emotionally. Yet today we see a rise in anxiety and stress – even in our youngest students.
What are the causes of this growing phenomenon? How can we draw on children's strengths to help them cope? How do Jewish values and experiences contribute to their social-emotional well-being?
We invite early childhood educators from New York and other communities to join us for this year's exciting conference and gain new insights and new techniques to help young children self-regulate, problem solve, and build confidence.
The conference includes:
Keynote session by Noah Hichenberg, Director of the Saul and Carole Zabar Nursery School 
Workshops on gender and sexuality development, mindfulness, the science of making mensches, and more
Exploration of social and emotional support for children through many learning modalities
Opportunities to meet colleagues from other schools
Kosher lunch
Time to recharge your own social-emotional batteries
Please read workshop descriptions before registering. You will make your selections when you register.
---
KEYNOTE PRESENTER: NOAH MENCOW HICHENBERG
CHILDREN CHANGE THE WORLD: Exploring the Tensions of Power in the Adult / Child Relationship
Many contemporary visions of early childhood understand that children have power and agency. Yet, notions of control often underlie early childhood practices: classroom management, extrinsic rewards, setting rules and boundaries, and an extinguishing of autonomy. This keynote will explore the tension between adult-power and child-agency, and strategies for how teachers can notice, and expand, the young child's resilience and power in face of this control. It will also consider how we can shift from a "vertical" relationship between adults and children, in which adults are at the top peering down at children with strategies of control, and towards a "horizontal" relationship, in which adults and children look across at each other in relationships of recognition and trust. The focus will be on the daily life of young children, in areas such as walking to school, drop-off, free play, clean up, and lunchtime.
---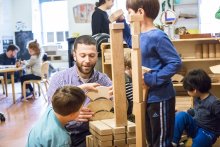 Noah Mencow Hichenberg has served as the school director at the Saul and Carole Zabar Nursery School at the Marlene Meyerson JCC Manhattan for the past five years, prior to which he taught in the school's 3s program. Noah's master's degree is in early childhood/childhood education, and he is currently working toward his doctoral degree in early childhood education at Teachers College, Columbia University. The title of his dissertation is "The Agency and Voice of the Young Child During Her Inaugural Encounter with Nursery School." As part of the group NYC Encounters with Reggio Emilia, Noah worked to coordinate "The Wonder of Learning" exhibit in 2015 as well as co-chair the conference, "Dialogue of Two Cities: NYC and Reggio Emilia," held at the 92Y concurrently with the exhibit. He is the founder of the Come Learn With Us conference and has watched it grow from 25 participants in 2015 to 275 in 2017. 
Noah Hichenberg was a recipient of the Jewish Education Project's Young Pioneers Award in 2015.
---
Conference information:
Workshops:
Please read workshop descriptions before registering. You will make your selections when you register.
Travel:
The conference venue can be reached by public transportation on Long Island Railroad from Penn Station to Roslyn and then take a taxi or Uber from train station to venue.
---