Adapting Podcast: Israel at War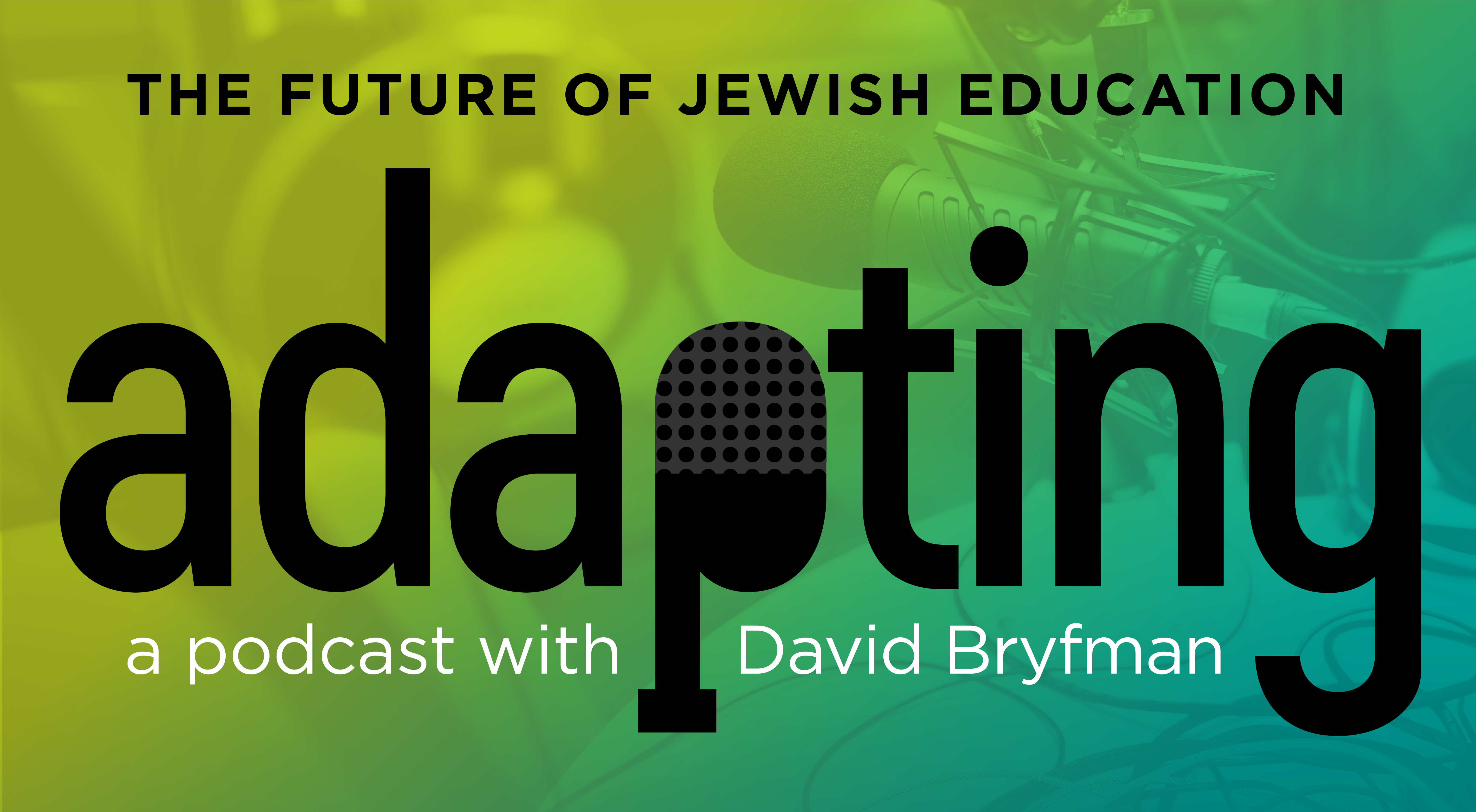 Since October 7th, The Jewish Education Project has held important and necessary conversations in many forums: webinars for educators and parents, professional development, one-on-one office hours, and conversations with experts on the Adapting podcast. Here is a collection of our most timely and relevant episodes on the war in Israel. Click the links below or listen on Apple or Spotify. 
During a time of war, it's so important to maintain and uphold our spiritual selves as well as community, two traits that are essential to Judaism. As the first yeshiva of its kind in Israel, the BINA Secular Yeshiva serves as a place where young adults can do just that while promoting Jewish pluralism and social justice. 
This week's episode of Adapting finds David Bryfman speaking with Ayala Deckel, head of the Secular Yeshiva. This episode will open your eyes to the Israeli secular perspective as Ayala divulges the power that comes from what happens when Jews unite in times of sorrow.
Imagine that you work on a U.S. college campus today while Israel is at war. Meanwhile, your Israeli cousin texts you from her mamad (safe room in an Israeli home) asking if you're okay given the rise in antisemitism on college campuses.
That's what happened to Merav Fine Braun, executive director at Hunter College Hillel in New York City, given the staggering rise in antisemitic incidents on college campuses across the country. In this week's episode of Adapting, Merav engages in a heartfelt conversation with David Bryfman. She recounts her campus experiences from the past month and provides insights into how educators can lend support to their students during this time of uncertainty.
Rebecca Bardach has devoted her life to progressive education and coexistence between Jews and Arabs living together in Israel. How does she maintain strength and hope during these dark times? 
Listen to a candid discussion with David Bryfman as she provides a firsthand, on-the-ground account of life in Israel, where she retells the heart-wrenching moment when she discovered her cousin's kidnapping by Hamas. She also recounts a poignant encounter with an Arab psychologist, highlighting moments of shared humanity, and offers poignant messages for educators to maintain optimism in times of crisis.
Right now, alongside the war in Israel, there is a battle occurring in America, one that plays out in academic settings through ideas that use Israel as a weapon for antisemitism.
Joining us in this provocative and timely episode is Dr. Rachel Fish, esteemed scholar and self-proclaimed warrior on the Middle East and Israel. David Bryfman and Dr. Fish discuss the wake-up call of how the war is affecting Jewish life in America, the impact of decades of festering antisemitism on university campuses and in many high schools, and how it's imperative to include Israel in all forms of Jewish education.
During this time of war, it's imperative that educators and parents remain a calm presence for children.
In a webinar held by The Jewish Education Project, Dr. Samantha Vinokor-Meinrath holds a conversation with Israel educator and mother Dr. Sivan Zakai on the importance and best practices on talking to children about Israel and the current situation.
The Jewish community is still reeling from the massacre that Hamas carried out in Israel over one week ago. 
In a somewhat cathartic conversation, David Bryfman and Rabbi Dr. Josh Ladon unpack their experiences as both educators and parents in helping educators and children grapple with a multitude of feelings. They emphasize that w​​hen dealing with war, one cannot deal with it in isolation, and to prioritize mental health by looking after one another in the field—from other teachers to kids—and ourselves. 
In the wake of devastation and sorrow coming out of Israel, Jewish educators have been grappling with how to best communicate the events unfolding with their students.

Through grief and heartbreak, they will flick some imaginary switch in their minds and hearts and do what they do best: be Jewish educators.
This week on Adapting, CEO David Bryfman shares his own emotional experiences and challenges in addressing such traumatic events with students. He stresses the need for educators to provide a sense of belonging and support to their students, acknowledging the affective, behavioral, cognitive, and belonging aspects of education. He also shares resources and support available for educators, including webinars and counseling services, as they navigate the difficult days ahead.