Music Together® Sing Shalom

New Jewish Early Enrichment Music Classes for Families with Young Children
Welcome to Music Together® Sing Shalom, the new Jewish music class for families with young children (birth-age 5)!
The weekly parent-child music classes combine everything you love about the internationally recognized Music Together early childhood music education program with a carefully selected collection of familiar (and not-so familiar) Jewish songs from throughout the world. Music Together Sing Shalom classes introduce Jewish themes, holidays, and celebrate community through song, supporting parents and caregivers in introducing their children to a diverse, culturally rich Jewish heritage.
Each week, a community of families comes together to sing, dance, and play in a class led by a trained Music Together teacher with a Jewish background. This pilot program uses the Music Together song collections that families know and love, along with songs from the new supplemental play list of Jewish music. Families in Sing Shalom classes receive the Music Together song collection materials (book, CD, download code) and song pages and links to the new supplemental Jewish music where possible.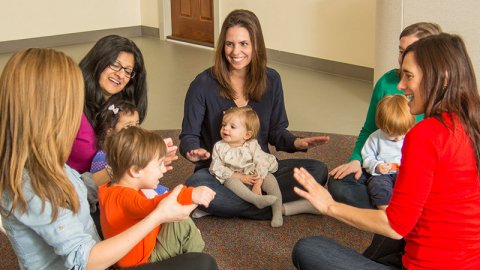 Families will learn lots of ways to interact musically with their child, while supporting their development, strengthening family relationships, and helping them connect with the Jewish music tradition. Music Together Sing Shalom teachers offer parents, grandparents, and caregivers, a unique window into Jewish culture, introducing Hebrew words through the universal language of music. 
Music Together Sing Shalom classes are offered in partnership with local Music Together centers and are an exclusive offering of Music Together in collaboration with The Jewish Education Project. Funding for this pilot initiative is provided by UJA-Federation of New York. Check often to see if a class is coming to a community near you!
---
Our Partners
Music Together is an internationally recognized music education brand brought to local neighborhoods through licensed centers. We are grateful for their continued effort in bringing the new Music Together Sing Shalom classes to families.  
Past Partners 
Class Venues
Music Together Sing Shalom class take place at Jewish and other community-based venues where families go for enrichment classes like art, open play, dance, music, and cultural programming: 
Marion Aaron Gural JCC, Cedarhurst, NY
Aleph Academy, Reno, NV
Temple Adath Shalom, Morris Plains, NJ
Temple Judea, Manhasset, NY
Chance to Dance, East Setauket, NY
Temple Beth El, Great Neck, NY
Madison Jewish Center, Brooklyn, NY
Marine Park, Brooklyn, NY
Temple Isaiah, Lafayette, CA
Hillel Day School, Detroit, Farmington Hills, MI 
Learn more by reading our press announcements in NY Metro Parents and Mommy Poppins!
The New Sing Shalom Teachers
Solomon Hoffman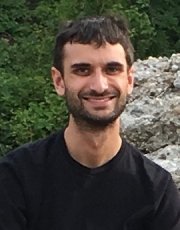 Solomon Hoffman is a Jewish educator, composer, orchestrator and arranger currently residing in New York City. He teaches at the Reconstructionist Synagogue of the North Shore, working in the Nursery School (Gan Shalom), Synagogue School, and Teen Program. He is also their artist-in-residence, running a monthly musical service and composing new prayer settings for services. His arrangements for musical theatre and cabaret have been featured at 54 Below, Ars Nova, Broadway Advocacy Coalition, Dixon Place, FringeNYC, Juilliard Drama, (le) poisson rouge, Lincoln Center and SubCulture. He is the founder of The Songwriter's Orchestra, an innovative 12-piece chamber orchestra that has accompanied award winning songwriters and Broadway performers. Solomon graduated from Columbia University, where he composed the Varsity Show twice. He is on the volunteer leadership team of Bend the Arc: A Jewish Partnership for Justice, and enjoys working on projects that fuse the arts and activism.
Solomon is very excited to be teaching Music Together for the first time with the new Sing Shalom curriculum! Solomon will be piloting classes on the UES, through Eastside Westside Music.
Amanda Kleinman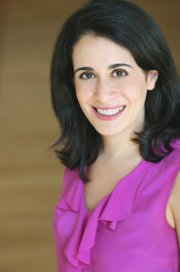 Cantor Amanda Kleinman is thrilled to be teaching Sing Shalom, a brand new Music Together class that incorporates Jewish songs alongside your Music Together favorites! A native of Dallas, Texas, Amanda has been a lifelong singer, earning a bachelor's degree in music and history from Middlebury College, and a Master of Sacred Music degree and cantorial ordination from the Hebrew Union College-Jewish Institute of Religion Debbie Friedman School of Sacred Music. As Assistant Cantor of Westchester Reform Temple in Scarsdale, Amanda works to instill a love of music and Judaism in adults and children of all ages. She especially loves serving as the clergy liaison to WRT's Early Childhood Center, where she leads Tot Shabbat and creates innovative musical programming for the community's youngest learners. In 2012, she recorded a CD of children's music, entitled Shalom Yeladim.
Amanda is so excited to be among the first teachers piloting the newest Music Together experience. Amanda is leading two classes this semester in Scarsdale through Starlight Starbright Music.
JUDY LEFF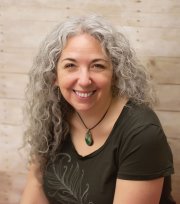 Judy Hausman Leff is the Director/Owner of While They're Little and has offered and taught the Music Together program since 2003 after taking classes with her first two children. She loved the program so much, she felt compelled to share it with every child she met and, so, While They're Little was born.  In April 2005, she was awarded Music Together Certification Level 1 from the Center for Music and Young Children in Princeton, NJ, having demonstrated outstanding achievement in teaching, musicianship, program philosophy and parent education, and in August 2010, she was awarded Music Together Certification Level 2 for demonstrating mastery of those areas. Judy is self taught on the ukulele, guitar, autoharp and other instruments (that she won't play in public).
Judy is proud of the consulting work she has done with The Jewish Education Project on the Music Together Sing Shalom pilot, particularly the research involved to find the additional songs. Judy continues to support the initiative by providing teachers with ongoing professional development around the new curriculum with Music Together's Director of Educational Services, Deanna deCampos. Music has always played an integral role in her life, as has Jewish Community. Judy is very excited to combine the two and can't wait to share this program with your family. Judy will be piloting classes in Rockville Centre and Port Washington, through her own Music Together center, While They're Little.
Stacie Levy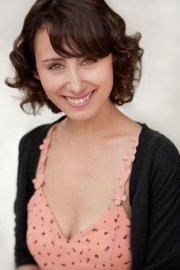 Stacie Levy is an opera singer, pianist and songwriter.  Being a part of a musical family, she developed a passion for music at a very early age.  She graduated with a BA in Music/Vocal Performance from Hartwick College in 2004 and since then she has sung internationally, as well as at multiple musical venues all over NYC and Long Island. She also plays multiple instruments: ukulele, piano, and guitar. Currently, Stacie works as a music teacher for Music Together. She also teaches privately and is the owner/founder of her music studio: Stacie Blair Studio (StacieBlairStudios.com) where she teaches children as young as 4, and specializes in private voice and piano instruction. (She also teaches adults too.)
Stacie is really excited to be working with The Jewish Education Project and can't wait to meet her fellow educators. She currently lives in Astoria, NY. Stacie is leading her second Sing Shalom class on the UES through Eastside Westside Music and Music Together in the City. 
---
Music Together Teacher Training
In June 2017 The Jewish Education Project invited 10 Jewish educators to attend one of Music Together's teacher training workshops held regionally. This special grant opportunity and training enabled Jewish music educators and family engagement specialists to learn the Music Together music education philosophy and learn more about the Music Together Sing Shalom initiative. Some who were awarded the grant became Sing Shalom teachers, while others have reflected on how deeply the training impacted their current work in the Jewish community. 
UPDATE: The Jewish Education Project is offering a 2nd cohort of Jewish family educators and music specialists to attend one of Music Together's teacher training. You can view the 2018 application information here.