Music Together® Sing Shalom

New Jewish Early Enrichment Music Classes for Families with Young Children
Welcome to Music Together® Sing Shalom, the unique Jewish music class for families with young children birth-5 years of age!
The weekly parent-child music classes combine everything you love about the internationally recognized Music Together early childhood music education program with a carefully selected collection of familiar (and not-so familiar) Jewish songs from throughout the world. Music Together Sing Shalom classes introduce Jewish themes, holidays, and celebrate community through song, supporting parents and caregivers in introducing their children to a diverse, culturally rich Jewish heritage.
Each week, a community of families comes together to sing, dance, and play in a class led by a trained Music Together teacher with a Jewish background. All Sing Shalom classes combine the Music Together song collections that families know and love, with a carefully curated and recorded supplemental play list of Jewish music. All families in Sing Shalom classes receive the Music Together song collection materials for that semester (book, CD, download code) PLUS the new Sing Shalom CD and online playlist of songs!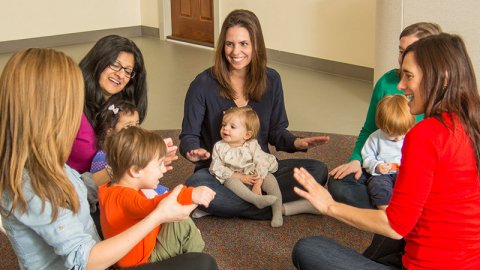 Music Together Sing Shalom teachers offer parents, grandparents, and caregivers, a unique window into Jewish culture. They introduce Hebrew words through song, recognize Jewish holidays, and share where and when fun things might be happening in the community. Families in a Sing Shalom class will learn lots of ways to interact musically with their child, while supporting their development, strengthening family relationships, and helping them connect with Jewish tradition culturally. 
Learn more by reading our press announcements in NY Metro Parents and Mommy Poppins! And our newest press announcement about launching class in Rockland County, NY
Music Together Sing Shalom classes are offered in partnership with local Music Together centers and are an exclusive offering of Music Together in collaboration with The Jewish Education Project. Class take place at Jewish and community-based venues where families go for enrichment classes like art, open play, dance, music, and cultural programming. Funding for this pilot initiative was provided by UJA-Federation of New York. Check often to see if a class is coming to a community near you!
SEE OUR GROWING LIST OF MUSIC Together Licensed Partners
LEARN HOW TO BECOME A NEW SING SHALOM CLASS PROVIDER (INFO COMING SOON)!
---
How We Support New Teachers
The Jewish Education Project plays a unique role supporting new Music Together Sing Shalom teachers. We've created a series of Teacher Resource Pages that offer teachers all of the essential materials needed to lead a Sing Shalom class. Teachers will have access to Jewish supplemental song files, the teacher and parent song pages with lyrics, and song and skills videos demonstrating song leading and activities. 
The Jewish Education Project has also created a unique Jewish Concierge Training e-Course. In the course, teachers walk through a series of videotaped learning modules with guest presenters to help prepare for their unique role building relationships with and between parents, and create dynamic class environments that support families on their Jewish journey. The e-course learning modules include the following topics:
Teaching Music Together Sing Shalom - with Judy Leff and Amanda Kleinman
What do Jewish Families Look Like Today - with Paul Golin
Parent-Child Group Dynamics in a Millennial Culture - with Karen Deerwester
The Joy of Jewish Music Culture - with Joey Weisenberg
New Sing Shalom teachers are also invited to join the Music Together Sing Shalom Directors & Teachers Facebook Group and participate in occasional group calls and videoconferencing sessions throughout the year. 
To learn more please contact Sr. Communal Education Consultant, Sasha Kopp.