My Profound Experience in Israel
Shalom all, 

For 364 days a year I feel fully connected to the Jewish people. This sense of Clal Yisrael (All of Israel) is very real to me - that we are all one people. 
 
The one-day exception has always been Yom HaZikaron - Memorial Day for the Fallen Soldiers of the Wars of Israel and Victims of Actions of Terrorism. On this day, no matter how many ceremonies I have attended, I have always felt distant from my Israeli family, who have literally sacrificed and paid the ultimate price for a State and for the freedom of which I am a beneficiary.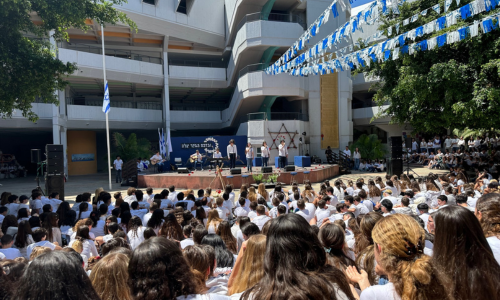 This past week, during a visit to Israel, in a quest to more deeply connect with the meaning of Yom HaZikaron, I attended classes and memorial ceremonies at two schools, with their youth, families, teachers, and graduates. I observed a 12th grade class discussing how Israel remembers their fallen, and the appropriate way to honor them, and in a somewhat surreal moment, it struck me that next year they, themselves, would be in uniform defending Israel and the Jewish people.
While I recognized many of the tribute songs and poems, what most captivated me were the faces of the children as they led their respective ceremonies with so much pride, confidence and sadness. As we sang the Hatikvah at the end of each ceremony, I could see in my mind's eye these same faces of kids around the world, in schools, camps and youth groups - anywhere Jewish education takes place. 

In Israel right now, the friction is real and the divisiveness is visceral. But my visit to these schools reaffirmed my belief that when there are challenges in front of us, education can help us to move forward to a better place. 
 
And so, it is with deep gratitude to the Tel Nordau School, the Lady Davis School, and The Jewish Agency for the opportunity to join them in commemorating Yom Hazikaron and celebrating Yom Ha'atzmaut this week. May we also reaffirm our commitment to Jewish education as the most powerful tool we have to strengthen Jewish lives and the Jewish people. 
 
David