A new year for Jewish education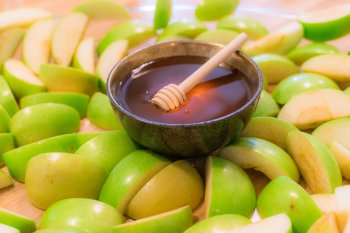 By David Bryfman
As we begin the new year and the start of school, I hope you and your family are healthy and safe as we weather the latest storms. While no one anticipated that this Rosh Hashanah greeting would come amid a continued pandemic, we remain inspired by the incredible resilience and perseverance displayed by Jewish educators and spiritual leaders.
 
As we do each year, we mark the start of 5782 with the dipping of an apple in honey in the hope of a sweet new year. This year, we encourage you to mark this moment in time with dual intentions. In the 1700s, families in Denmark and Sweden expressed their appreciation to teachers by giving baskets of apples as thanks for educating their children in difficult times. This year as you dip the apple in honey, we urge you to simultaneously offer a proverbial apple to our educators as a sign of our deep respect, gratitude, and appreciation for everything they do every single day for all of our children.
 
In that same spirit of gratitude, we also give a sincere thanks to you. You made it possible for us to accomplish so much upon which we can continue to envision, create and build. 
Our digital platform, The Jewish Educator Portal, regularly engages thousands of educators across the country, and the world, connecting them to each other, to professional learning opportunities, and to expertly curated resources so they can deliver meaningful Jewish educational experiences. Check out our most recent resources for Rosh Hashanah and Yom Kippur.  
Over the summer our RootOne initiative, with the support of The Marcus Foundation, sent 4,000+ teenagers to Israel. Inspired by their experience, many of these teens are engaged in follow-up programming to continue their learning. Thousands more teens are currently participating in a range of Jewish learning programs prior to their RootOne Israel trips next summer. 
Our new fellowships offer specialized training for a spectrum of Jewish educators, such as those in early childhood, Israel education, youth engagement, and more. Beyond skill development, these fellowships provide powerful, supportive educator networks, especially amid such uncertain times. 
We will also continue to be a thought leader in the Jewish education field, driving others to continuously adapt and innovate Jewish education so that it remains relevant and meaningful in people's lives.  
As we embark on a new year, we count our blessings and acknowledge the sacred responsibility we have. Excellent Jewish education takes a commitment from so many to create the very best Jewish educational experiences. Again, please thank a teacher for their heroic efforts to support their students and make Jewish education meaningful and relevant. In 5782, we recommit ourselves to this work. We are as inspired as ever to make sure Jewish education helps our youth and community thrive. 
 
L'shana tovah, 
David 
David Bryfman is CEO of The Jewish Education Project.