New Year, New Sense of Optimism
By David Bryfman
September 21, 2022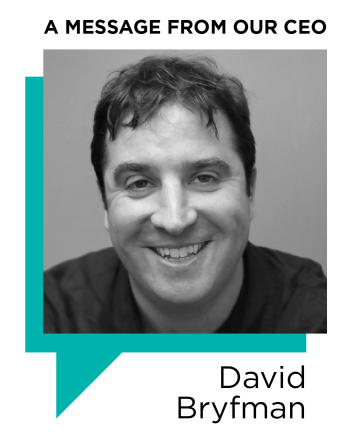 Dear Friends,

At The Jewish Education Project we operate by a set of values, one of which is "We honor tradition and embrace bold change."  Jewish continuity, mesora, challenges us to confront and adapt to new realities. Our tradition also invites us to acknowledge the important role the past has in shaping the future. This ethos will continue to power our work this year as innovators with great respect for our heritage and history.

As we approach Rosh Hashanah, I feel a renewed sense of optimism. Many children have returned to in-person school and recreational activities. Communities will gather in synagogues and communal spaces to observe the high holidays. Families will break-fast at the homes of friends and loved ones. It is a time for reflecting on what we've endured the last two and a half years, and a time to celebrate new beginnings.  

At The Jewish Education Project, adversity spawned some of our best, most far-reaching work to date. We're harnessing our creative energy and acquired wisdom to create transformative experiences for youth and their families, like our groundbreaking Israel immersion program RootOne, with another 5,000 American high school students participating this past summer.  



2,300 RootOne teens attended the Big Tent event in Rishon LeZion, Israel in July 2022. RootOne has sent over 9,000 teens to Israel since 2021, with plans to send thousands more in 2023.

We heard the call in 2020 to equip educators with exceptional AND accessible resources and training, and we launched The Jewish Educator Portal in response. In just two years it has evolved into a global digital hub for curated collections and best-in-class resources, as well as numerous (28 and growing) online networks of kindred spirits who connect to share wisdom and support, problem solve and kibbitz.



The Jewish Educator Portal serves over 9,000 educators monthly, and growing, across 150 countries, with best-in-class resources, professional development and peer networks. 

The world is still a complex place, and hard challenges remain. At The Jewish Education Project, we are deeply committed to tackling the pressing issues facing the field now and in the future, and providing the tools, ideas and solutions to engage tomorrow's learners in meaningful ways. In this spirit, The Jewish Education Project will hold a pioneering summit on November 2nd addressing the culture of teen behavior and sexuality in Jewish youth settings.

I look forward to our continued partnership in building a thriving Jewish community now and tomorrow. May you have a joyful, peaceful and sweet new year. 

L'Shana Tova 
David  
David Bryfman is the CEO of The Jewish Education Project.