DigitalJLearning Says Goodbye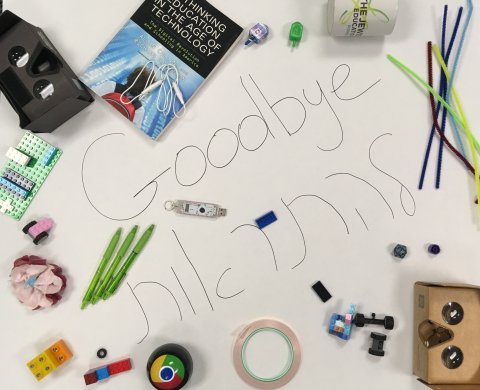 Dear DigitalJ Community,
Seven years ago, with the help of the AVI CHAI foundation, The Jewish Education Project launched a blended learning initiative in New York and around North America to help teachers in Jewish day schools make learning more engaging and meaningful for students - the DigitalJLearning Network. What began as a two year grant, grew for seven exciting years of helping educators use technology in the classroom. In recent years, we've rebranded and expanded, renaming ourselves DigitalJLearning and growing our work to include other types of technology integration in not only day schools but also congregational programs and Israel education. We also built an active and welcoming community, online and in-person, of hundreds of EdTech professionals who continue to learn from and propel one another forward.   
With a sense of pride and a tinge of sadness, we're writing to share that on June 30th, DigitalJLearning will officially wrap up its work as our grant funding comes to an end.
Over these years our work has been varied and geographically expansive. We helped build makerspaces in New York City, introduced blended learning in Boston, sent teachers to the ISTE conference in Texas, Philadelphia, and Atlanta, ran a three year academy in Miami, presented workshops in Montreal, and so much more. It's been a wonderful journey.
We want to wholeheartedly thank you, our educators. Whether you came to one workshop or we've worked with you consistently for years - you are the reason for this project's existence. It's been our mission to help in your use of EdTech to make learning more meaningful and engaging! We hope we have made an impact on your organization, small or large, and that you will continue this work independently and with other partners in the future. We are proud of the work we've seen you all do over the last seven years - it's been wonderful to be a part of it.
We want to also thank our amazing program staff from over the years, Gary Hartstein, Margery Docking, Faigy Gilder, Tatyana Dvorkin, Yonah Kirschner, Joyline Tomlin, Monica Brandwein, and Gabriel Weinstein. You have made this project what it is.
We also want to give a shoutout to our partner organizations around the country, like Samis in Seattle, CAJE in Miami, and CJP in Boston, and the many EdTech companies and educational nonprofits we have worked with over the years in helping our teachers.
And of course, none of our work would have been possible without our funders The AVI CHAI Foundation, UJA-Federation, and the Jim Joseph Foundation, and our colleagues at The Jewish Education Project.
Thank you all and may the force be with you!