Educator Spotlight: Handing Students the Reins with Jenna Kraft
How can blended learning improve student engagement? Jenna Kraft, teacher at Scheck Hillel Community School and participant in DigitalJLearning's JBlend Miami cohort, explains how she engages students in a station-rotation model. She also shares digital storytelling projects and how blended learning has helped those for whom English is a second language.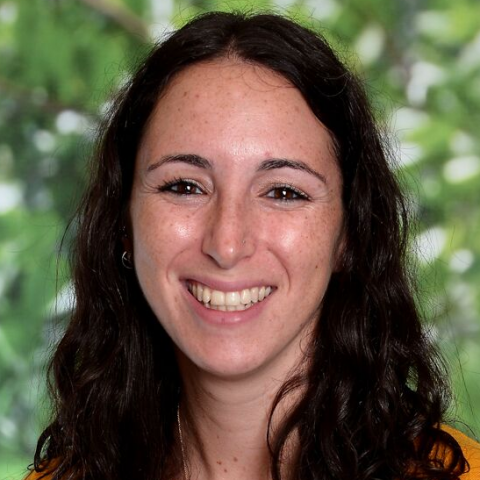 Jenna Kraft is a 5th grade general studies teacher at Scheck Hillel Community School in North Miami Beach, FL. She has her Bachelor's in Elementary Education from Michigan State University and has 8 years of classroom experience. Jenna has been participating in a blended learning cohort with other educators to implement blended learning in their schools. Jenna has also been testing different blended learning strategies in her classroom for the past two years. She is a mentor in technology at her school and conducts professional development sessions to help teachers incorporate more technology into their everyday teaching. Jenna also presented at ISTE 2016 on Digital Storytelling as a creative tool for student presentations and learning.

When did you realize you wanted to be a teacher?
I wanted to be a teacher for as long as I can remember. Back in first or second grade, the teacher didn't think I knew how to read, so she put me in a group with low level readers. Then she realized that I was teaching all the other kids how to read! So it was very early on in elementary school that I started to play teacher and help people learn.
You've participated over the past year in DigitalJLearning's JBlend Miami professional learning. What have been the highlights from that experience?
I think before JBlend Miami I was at a bit of a standstill. JBlend allowed me to learn what other teachers are doing and how they're using another form of teaching. I also gained an understanding of what blended learning is and how to implement it. The professional learning brought me back to the ground and helped me realize that this is what I want to do with my life. I also love working with all the other schools, and I loved visiting Lehrman Community Day School and seeing what they're doing so we could bring elements back to our school.
How have you implemented blended learning in your classroom?
In math, I've done the station-rotation model. At one station the students use Khan Academy and in real time it will recommend skills for them to review, so that's a personalized piece. Another station is math games using manipulatives in which they'll solve different problems to practice skills they're learning now or that they learned in the past. Some students even designed their own game called Bump for others to practice operations with decimals, and then everyone played it. The third station is where students will have teacher-led practice. It's an advanced math class, so they're in 5th grade but we're following a 6th grade curriculum.
We're also personalizing a lot of it, because some of them are at a 7th and 8th grade level. I use IXL and Khan Academy to help those students excel and expand their skills. IXL is more of an interactive worksheet; if a student gets the question wrong it explains how to get the right answer but still moved them forward. Khan Academy is more like a full online lesson; it does not let students move forward until they get the answer right, and will give students scaffolding hints if they get something wrong and a video to reteach the concept. Both IXL and Khan Academy are adaptive, so they get more difficult when the students get questions correct and easier when students get them wrong. Over the past year, IXL has gone much deeper with their data. As students answer questions, IXL is tracking the information and it allows teachers to see the trouble spots of particular students and creates groups for reteaching. They have also introduced a new feature on IXL that recommends skills to students based on what they are practicing and how they are doing. This data helps me to form my small groups in class. The data from Khan Academy is also very helpful. I can see how students are doing on particular skills and recommend extra practice to them. As they practice, it moves them from a needs practice level to mastered. This feature allows me to track the students as they work. Both websites have the ability to review the overall skill progress of each student and to track the students in real time as well!
What have been other outcomes of your school's participation in JBlend Miami?
Everyone wanted more technology - I believe that JBlend was the reason. We went to JBlend and got the idea of starting technology use earlier - in the lower school - and then those skills can build up and they'll be ready for high school when the time comes. We've gone 1:1 in 4th and 5th grade with Chromebooks. All the students have email addresses and are becoming familiar with Google Apps for Education (GAFE) and organizing digitally. We're really working on personalizing the learning with the 4th and 5th graders now that each student has a Chromebook. We had met and collaborated with teachers from other schools at JBlend and went to visit Lehrman. JBlend helped us push forward. There's technology now in every classroom, too. We're focusing on small group tech, bringing in one station into the classroom. For 1st, 2nd, and 3rd grade we have seven Chromebooks and in Kindergarten we have five iPads.
I also run the school store, The Shuk, and the money we've raised there has been pushed towards technology recently. A couple years ago, we got all the teachers HoverCam Cameras. This year we got all the teachers Osmos so students can do math, spelling, and coding. Those investments have added to each teacher's ability to bring meaningful project that use technology into the classroom.
You recently presented at the ISTE Conference. What inspired you to share your learning with others? What was your session about?
During one of the first JBlend Miami sessions, someone shared an idea about digital storytelling and I loved it, so I went back that week and told my students about it and we got started. Also, my mentor at my school, Nancy Penchev, presents all over the place and she's part of my school's JBlend team. She told me to just put something out there, so I applied to do a poster session about digital storytelling, and it was accepted!
I had my students do digital storytelling during the year. They researched Florida's industries and explorers and used Adobe Spark to tell their stories. They first had to write the story, then plan the storyboards, then put in pictures and record their voices telling the story. They also had to choose the right music to set the mood. They also used similar methods to advertise a place in Florida. They loved digital storytelling and picked it up super fast, and we all learned the techniques together.
It was very exciting to present at ISTE, overwhelming but inspirational. Everyone should experience something like that. I like knowing that I've given someone else the tools, because that's what JBlend Miami did for me. We had all these teachers collaborating and I used that information myself, and now I'm hoping to pass it along to someone else. At ISTE, I wanted to show other educators that there's another easy tool they can bring back to their classroom. Instead of making a paper book at the end, their students can use the Adobe Spark app. It's one more technique they can apply to their classroom, and they can learn it easily right alongside their students.
Scheck Hillel has international community with students from countries all over the world. How has blended and personalized learning helped you address the needs of learners for whom English is a second language?
We have wonderful ESOL teachers and they've also taken some of those blended learning tools we've brought back from JBlend and used them. When we do station-rotation groups, the ESOL students can be in a separate group with the ESOL teacher. The ESOL students don't feel left out because everyone in the classroom is working in small groups at their own level. They also love the technology. We'll give them an iPad with Google Translate, and they'll run with it. They find it very helpful.
What advantages do you see for all your students in using technology in the classroom?
They're digital natives, so it allows them to bring what they like to do outside of school into school. Also, now that they have their own email addresses and are using Google Apps, they're more connected to me as the teacher. I'll have students email me questions or send me assignments asking for comments or critique. Before, they had to wait until they came to school. The technology has made me more accessible to them for support. There are also just so many resources, websites, games for learning, and apps they can use to create and design. It helps them stay very engaged.
I also like to try new things with the students. I want to see the technology through both the students' and teacher's perspective. We tried Quizizz the other day, had fun with it, and then we had a conversation about what worked and what didn't. The students are good at sharing their opinions. They gave me great feedback and we talked about ways we would use the tool based on what they wanted and their comfort levels. So I gave them the tool, and they told me how it should be used. That process helps to give them more agency over their learning.
What is a challenge you've had with integrating technology?
There is a lot of initial student buy-in for the technology itself, but getting them to really take ownership of their learning is not always easy. That's a work in progress. Some students will be learning something and then say they want to learn more and will go learn on their own, but the majority are not yet taking ownership and advancing their own learning.
What's been the most rewarding part of innovating in your classroom?
This morning was a great morning. Our principal walked in and noticed that every student was engaged. There were reading groups working collaboratively on Google Docs. Other students were reading. Some were discussing a book. As a teacher it's hard to let go and give up control, but for these book clubs, I said here are your assignments and every student got to choose how to do theirs. To have another educator come in and point out that every student was engaged made me think I really did something right. Sometimes you don't see it until someone walks in and says it. I thought to myself, "Wow!"
Yonah Kirschner former Project Manager, Digital Content and Communications at The Jewish Education Project.