Educator Spotlight: Rabbi Tzvi Hametz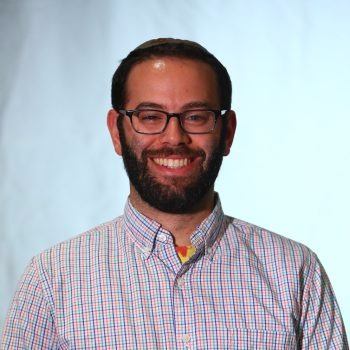 When Rabbi Tzvi Hametz was a fourth-grade teacher at Gindi Maimonides Academy in Los Angeles, he would talk with the school's EdTech directors. "I would say, 'Give me all the tools and toys. I want everything in my classroom. I want to play with it all,'" Rabbi Tzvi recalled. During his years in the fourth-grade classroom, Rabbi Tzvi, now the school's director of creativity and innovation, made it a priority to give his students creative freedom. He felt the more he empowered his students through creative projects, like creating a graphic novel based on Parshat Toldot, the more they would take ownership of their Jewish identities.
"I felt I was losing kids," Rabbi Tzvi said. "It's a constant struggle for Judaic Studies teachers to show students that the Torah they are learning has a meaning beyond being a rabbi. My belief was, that if we give them the tools that they know, and show them how to apply the Torah knowledge to these tools it will connect them in a [different] way."
In his role as director of creativity and innovation, part of Rabbi Tzvi's job is helping students and teachers look at Jewish life through a new lens. In Gindi Maimonides Academy's makerspace, the Macbook bays are not just for video editing, the drill press is not just for woodworking, and the sewing machine is used for more than patching up old clothes. The tools are implements for Jewish learning. Teachers and students record Torah readings in the school's sound recording studio. Each spring, Rabbi Tzvi teaches a course in which students create a new Jewish ritual object. Through the class students investigate a commandment and then use the makerspace's tools to invent new Jewish ritual objects. For instance, after studying the laws of head coverings, a student created a hat rack with pesukim on it.
For Rabbi Tzvi, mixing the maker movement with Judaism is neither new nor revolutionary in Jewish thought. Rabbi Tzvi views Judaism as a religion and philosophy that inherently treasures and celebrates the creative potential of all humans.
"There are many sources of Judaic text that charge men, and that our partnership with God… was based on our ability to both guard and build this world.  I think it's an absolute obvious connection," Rabbi Tzvi explained. "In the last three or four years, that has really sparked my need has been to make sure that this aspect of 'maker Judaism' is not lost. I think somewhere along the lines we became very cerebral in our approach to Judaism, which is great…. But Judaism requires action as well. And I think that manifestation with the makerspace is seamless."
In addition to his work with students, Rabbi Hametz serves as a coach and resource for teachers. He collaborates with teachers to create multi-unit lesson plans, and helps teachers craft curricula that fuse seemingly disparate subjects like math and Mishna. He runs a professional development session once a month for teachers, at which they brainstorm different ideas for Project Based Learning and for how to best utilize their makerspace.
One of Rabbi Tzvi's favorite things is to see student growth. Through his work in the makerspace, Rabbi Hametz enjoys providing students with the tools to develop into independent learners. "In order to make something you have to learn how to do it….In this space we try and remind students that everything requires learning. You have to grow and develop in order to do anything that you want to do," Rabbi Tzvi says.
Gabriel Weinstein is the Project Manager, Digital Content and Communications, for The Jewish Education Project.