Educator Spotlight: Teaching Through the EdTech Lens with Zachary Lebwohl
Zachary Lebwohl was part of a team that worked with DigitalJLearning to build The Ramaz School's strategic EdTech plan. In this Spotlight, Zach shares positive experiences from that partnership. He also explains how he balances supporting teachers in integrating technology while innovating in his own classroom.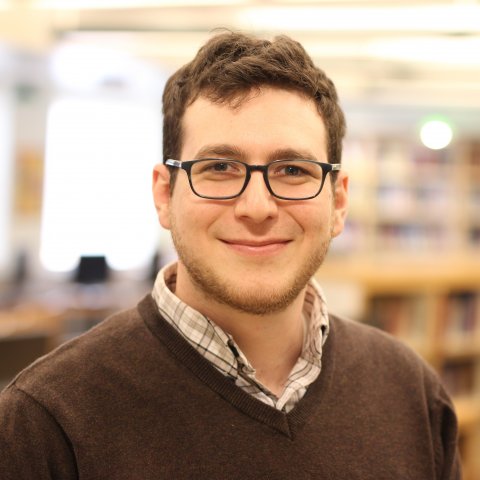 Zach Lebwohl is an Education Technologist at The Ramaz School in New York City. In addition to supporting teachers' professional development in technology use, he also teaches technology courses to students in the Middle and Upper School. Zach grew up in Miami, FL, and now lives in New York City with his wife and son. He attended The Joint Program at Columbia University and The Jewish Theological Seminary where he majored in Economics and Modern Jewish Studies. Zach earned his Master's Degree in Jewish Education from The Azrieli School at Yeshiva University and completed the YU LEAD course in Educational Leadership offered by the YU School Partnership.
---

How did you get into the field of education and specifically educational technology?
I've always been interested in Jewish Education and decided to pursue a Master's after college as I figured out my next steps. While studying for my Master's degree in Jewish Education, I began working as a middle school computer teacher at The Heschel School in New York. While my formal training was in Jewish History I have always been a tech enthusiast, building websites for different student groups in college and exploring different programs and technologies on my own time. I drew on that background to teach middle school students word processing, web-design, robotics, and video editing. After my first year of teaching, I took on an additional role in the IT department where I gained on the job training in the various technologies that support the successful running of a large school. Drawing on my background in education, enthusiasm for technology, and new training, the job naturally evolved into more of an EdTech role.

In your role at Ramaz, you're serving as both an EdTech Specialist and a teacher. What classes do you teach and how do you bring your technology expertise to that part of your work?
I teach 5th grade computers and a new 7th grade STEM class we are piloting. Our 7th graders now have the option to choose between a foreign language and the STEM class. We have also added an 8th grade class on Arduino, a circuit board capable of controlling electronic devices such as robots.
The STEM class includes a lot of project-based learning. At the beginning of the year, I ordered a variety of kits for everything from robotics to silkscreening. When the students first came to class we went over real-world uses of technology, such as a Disneyland ride in which the cars move around on a trackless system. I asked them to think about the process of creating this ride and the challenges the engineers may have faced. For example, we had a class discussion about what would happen if one car in the ride went off by an inch every time the ride ran. Using basic arithmetic and a few educated guesses, the students quickly figured out that two cars would collide before the end of the afternoon. Early on in our class, I asked each student to write down their interests and what they wanted to get out of the class and as the year goes on I choose projects based on their goals. Some students wanted to make a clock, so we began using K'NEX sets to learn about gears. They've been building simple machines to learn the basics of how a clock would operate, and their final project will be building their own working mechanical clock. The goal of this course is to give students agency in their learning and a feeling of excitement about exploring the world around them.
We have a couple of class-wide projects as well. For instance, we are learning about cellular signals. The class is going around the school creating a heat map, which shows the strength of our cellular reception around the building. We turned our cellphones into field testers so we can figure out the exact cellular strength in different areas. The students will use the information they gathered to write a proposal for where to place signal repeaters to improve the signal. The students will gain a better and more personal understanding of wireless signals and may end up meeting a need in the school in the process.
These types of real-world challenges are the kinds of projects we're doing in the STEM class. It's very student-centered and entirely project- and challenge-based.
There is some research that students need to do in order to complete these projects, but the research is not dry or in a vacuum; it's in support of the project. We're constantly working with a clear goal in mind.

What are some challenges of having two roles? How do you balance your role as an EdTech specialist and also having classroom teaching responsibilities?
I love the opportunity to work with both students and teachers. Often my teaching commitments can make it difficult to find time to work with teachers individually. I would love to have more availability to sit in on classes and observe how teachers teach. That would allow me to tailor professional development to each individual teacher. I try to squeeze in proactive meetings as I can and otherwise serve as a resource and troubleshooter when teachers identify a need.

How else does your EdTech lens color how you teach class and the methods you use?
From my experience as an EdTech specialist, when I find someone struggling with technology, it is often because they are apprehensive or aren't curious about how a program or device works. When people are curious about how things work they tend not to let fear hold them back and allow themselves to make mistakes. These are the ones who dive in rather than immediately ask for help, and when they do ask for help it's because they've already made it to a certain point and have run into a problem that they already tried to solve on their own. When approaching students, my main goal is not that they should memorize content. I would rather they learn to be curious, explore and realize what resources they have. They can ask Google, their peers, their teacher, but they can also do a lot on their own if they aren't afraid to make mistakes. For my computer class, I used Code.org's courses online to teach computer science. The students work at their own pace, and if they ever have a question, my first response is always, "Did you read the directions? What do they say?", or "Did you ask your neighbor?" I want them to be able to figure it out on their own or at least try to before I jump in there to shine a light on the puzzles they're working on.

In your role as EdTech specialist, how do you support teachers at Ramaz?
I support the middle school and upper school teachers. In the morning I follow up on any open tickets in our system from people needing EdTech support. If there are requests, I'll try and take care of them. Then, I'll move around the building to see if anyone can use my help or I will chat with people to find out what they are working on; that way, I can keep them in mind if I come across a useful tool. The other day I was talking with a teacher who co-teaches and splits her class into reading groups. The groups have different assignments in reading, which makes it complicated to keep track of in a typical gradebook. I suggested she try out a feature in our LMS (Learning Management System) to assign specific assignments to only certain groupings of students. Now keeping grades is faster and communication to the students through the LMS is targeted.
Spending time speaking to teachers about how they operate and what they do is often as important as speaking about what they wish they could do. A large portion of my job is talking to people and understanding how they use technology and then helping them find a tool or a new procedure that better suits their particular needs. Many conversations with teachers start casually over lunch or in the halls. Teachers tell me what their recent struggles and projects are, and then we set up an appointment to sit and talk about their goals and what they'd like to improve. In that meeting, I'll find out more about the project, so that I can help the teacher find the best solution. My goal when I'm helping a teacher or staff member use technology is always to make sure that the project or goal itself is achieved in the most effective and efficient way possible.

What's an example of a specific lesson you've collaborated on with a teacher?
I worked with one teacher on supplemental materials for her class. She wanted her lower school students to be able to practice reading Hebrew stories at home with a recording of her voice for comparison. Specifically, she wanted students to see the words she was saying as she was speaking them. We chose Keynote, presentation software for Apple computers, to achieve this task while keeping the experience as close to reading a book as possible. Once I walked the teacher through the process of creating the video, she was able to work independently and produced the final product on her own -- a tool for her students she felt was missing and could not find anywhere else. Later that year she taught another teacher how to create similar materials and the skill began to spread.

DigitalJLearning worked with Ramaz last year to help the school build its strategic educational technology plan. You were part of the working group that participated in the core of the work. What was it like working with our team and being part of that effort?
I actually really miss those meetings! They were very engaging, thought-provoking, and enlightening. It was very cool to see a group of representatives from our school, with different ideas and similar, yet different, goals, come together and work out a cohesive plan. My ideas about technology supporting learning became more thought-out over the course of the process. It was a cool exercise to think it all through and have a discussion with people who agreed and others who had perspectives different from mine and disagreed.
The guidance facilitated by Gary (former Director) and Tatyana (current Director) was essential to that process. There's no way to have come to a plan of that magnitude with a consensus if they hadn't been there to make sure we stayed on track and refocused us on what we previously said our goals would be.
Gary and Tatyana really listened and made sure we were in line with those initial goals. And they were fun, awesome people, too!

What are the biggest challenges when trying to integrate technology with learning? How do you help teachers overcome those challenges?
Teachers often feel pressure to incorporate technology into their classrooms. While many teachers are finding successful ways of using technology to engage their students, there are two common pitfalls I see repeatedly. On one extreme, teachers can get caught up in an exciting flashy feature of a program. In their enthusiasm to implement something new, they can sometimes lose sight of how the technology supports their educational goals. A frequent example in any industry is overuse of PowerPoint animations that can distract from the content. My approach in this situation is to refocus a teacher and to ask them where they most want to spend their limited class time. After assessing the technology from that vantage point we usually tone down the use of extraneous features.
On the other side are people who can be dismissive of or intimidated by unfamiliar technology. Many teachers have been teaching successfully without these tools for their entire careers, and don't always see where technology can help. My strategy, in this case, is to introduce these teachers to technology that can help them save time on organizational tasks, so they can spend more time on education-related tasks. EdTech is not just for the classroom; it's also for everything happening to support learning. This could be as simple as a more efficient way to write up report cards. Encouraging technology use for teachers outside of the classroom is sometimes the best way to get them thinking about using it inside the classroom.

What's been the most rewarding experience for you at Ramaz?
There's something that happens every once in a while that reminds me of why I do what I do. It's that moment when students or teachers are frustrated with technology, and they work through it on their own, as opposed to being helped with it. When they've done it from start to finish and I'm just sitting there for emotional support, and they work it out themselves and experience their own "Aha!" moment. Their joy in having figured it out -- that's really the best thing for me. That's what really makes me happy, and I get to experience that over and over again.
Yonah Kirschner, former Project Manager, Digital Content and Communications at The Jewish Education Project.