Eight Digital Tools for Students to Create Original Purim Shpiel Videos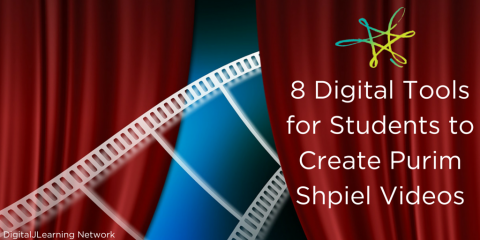 The first thing that comes to mind when you think of Purim might be "Costumes!" but what really makes the holiday unique on the Jewish calendar is the custom of putting on the special Purim play (shpiel in Yiddish). Going back centuries, the often hilarious and satirical Purim shpiel has traditionally been performed live. Today it's common for synagogues, Jewish schools, and other institutions to each put on their own Purim shpiel, and though these are always enjoyable to watch, there's usually a limited number of people who get to actively participate. This year, ensure that every one of your students gets to be a part of this fun tradition as a producer, not only an audience member, by giving them the digital tools to create their own original Purim schpiel videos! In addition to having fun, they'll be learning important media creation skills that are vital to succeeding in today's world. Read below to find the tool that's right for your classroom.
Animoto
A basic video production app, this one wins the award for having the best audio options, with hundreds of songs in the built-in music library. It also has more than 50 different video styles for students to choose from. The interface is minimalist and has a professional look, so the app would be better for use with older students who don't need as many "bells and whistles" to keep them engaged.
Doodlecast
Though this app is more interactive whiteboard than movie maker, there are endless possibilities for how your students could use it to make an original video. The tool records your voice as you mark areas of the screen, allowing you to draw attention to elements of video. If you want your students to teach a lesson through their video, this is the tool for that project!
Green Screen by Do Ink
This is the #1 Green Screen app for education. Your students will love experimenting with different background possibilities and really making their video their own. Though it has lots of features, the tool is still user-friendly with an easy-to-navigate interface. Everything your students will need to making an amazing green screen video is all here in this one app.
iMovie
No movie-making EdTech list would be complete without this app. It's a powerhouse tool when it comes to video production, but at the same time is user-friendly enough that your students will be able to use the various features. With 14 movie trailer templates and eight movie themes, students will have lots of options and opportunities for creativity. Learn about some awesome ways iMovie has been used for Judaic Studies in our Educator Spotlight with Alyson Jacobs!
Shadow Puppet Edu
This app is another one on the simpler side, but it still has a lot of features that will help students make great videos. Students can search multiple databases and the web for pictures and videos, record their own voiceover narration or add music, record their own live screen interactions, add text, search for maps, and more.
Stupeflix
This tool doesn't have lots of features, but its simplicity will be a plus for younger students. They'll be able to choose from 16 different themes and then use the simple interface to add photos, videos, text, maps, and transitions. For music, students can choose a soundtrack from a surprisingly large audio library that includes 8 different genres. They can also opt to upload their own music for the videos. A preview option is available anytime for students to see how their videos are shaping up.
Toontastic
Animation is great way to engage younger students (and all students!), and this app is the perfect one to start with - it's colorful and fun! Students can create an animated video, choosing from over 200 characters, settings, and special effects. They can also design their own animated characters to further personalize the video. The camera feature, in which students can import or take their own photos, adds even more options for backgrounds and characters. For more fun animation tools for your classroom (and how to use them), check out our Tools for Toons blog post from International Animation Day!
TouchCast
With this app, student will be able to create their own interactive videos. The basic video becomes a background template onto which students can add widgets, such as questions, websites, YouTube videos, maps, photos, and more. By layering these other elements onto the foundational video, students demonstrate their understanding of the connections between concepts or topics. To see just how awesome a TouchCast can be, check out this example.
Yonah Kirschner, former Project Manager, Digital Content and Communications at The Jewish Education Project.