Israeli educators visit The Jewish Education Project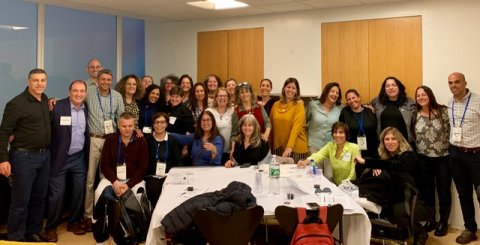 On a quiet Friday morning in April, The Jewish Education Project's board room transformed into a center of impassioned conversation. A group of Israeli educators gathered to discuss Jewish education and American Jewish life with David Bryfman, Chief Innovation Officer and incoming CEO. Through text study and conversation, the educators gained new insight into the unique challenges Jewish educators face in New York and in the United States. 
The educators' visit to The Jewish Education was part of a 7-day professional development visit from April 10-17 for a group of  Israeli principals from secular, public middle schools. Supported by Israel's Ministry of Education, Ministry of Diaspora Affairs, and UJA-Federation of  New York, the cohort is learning about Jewish Peoplehood during its year long professional development course. Abby Pitkowsky, Director of Westchester Region and Israel Education, and Judith Talesnick, Director of Professional Learning and Growth, organized the cohort's week long trip to New York. The principals learned about New York's Jewish community and the diverse landscape of Jewish education.  
"This was a fantastic opportunity for Israeli educators to build bridges with their peers in New York and explore new learning opportunities for the students and families at their schools," Pitkowsky said. "I am thrilled that The Jewish Education Project was able to help these educators learn about topics such as approaches to pluralism and inclusiveness in Jewish settings. This was a great experience and we look forward to working with more Israeli educators in the future."