"Parents aren't as cute as their children…" Reflections on a Site Visit
At the Carole Zaber Nursery School at The JCC in Manhattan.
…but they're still worth committing the time and energy to", encourages Ilana Ruskay-Kidd, the Early Childhood Director of The Manhattan JCC's preschool on the UWS.  In a room full of 25 early childhood educators Ilana and her staff talked about the importance and value of investing in families in a way similar to how they invest in their children.  She was inspiring.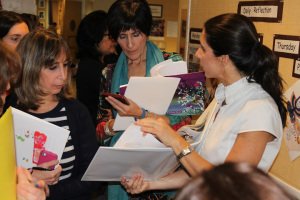 On the heels of a very difficult and tragic weekend, Ilana reinvigorated our educators with words of hope and inspiration as she explained their preschool's vision of powerful and meaningful family engagement.  It was, by no means, an easy feat to bring the parent body to the place they are today, with the strong and healthy two-way connection between staff and parents.  Ilana shared details of the long journey she and her staff have been on to transform the preschool into a Reggio Emilia inspired Jewish preschool, which places a high value on working closely with the parents, and being intentional and deliberate in all interactions with children and their families.  Although Ilana talked about how far they have come, she emphasized that their journey is far from over.  Her message to educators was clear:  don't give up. 
"Take tiny baby steps to get to where you want your school to be.  Lots of little changes over time add up to big changes, and can have an huge impact on your school and community. 
But you, the educator, have to be the change agent.  You have to fight for what you believe in, one step at a time.  There will always be obstacles to having the type of school you envision, but if you start from a place of "I can," instead of "I can't," you will find that you have the power and tenacity to get your vision in place.
Marni Thompson-Tilove was a Project Manager at The Jewish Education Project and is now a Social Worker/Service Coordinator for Seven Hills Rhode Island Early Intervention.