Passover Seder: Jewish on the Job Training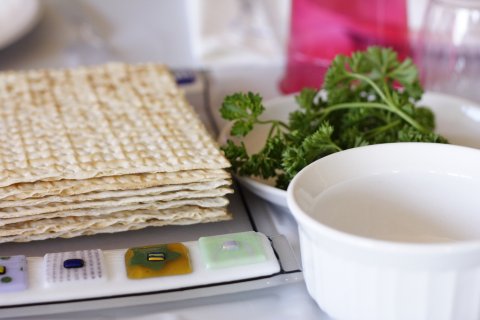 In 1998, my wife and I hosted our first Passover Seder. It was a disaster. We were short on plates. The food was either burnt, cold or both. We left out major sections of the Haggadah and confused our guests. Despite, or because of these failings, the Seder was a profound educational experience. We learned by doing. It was on-the-job training. I think that hands-on element is missing in the sphere of Jewish education.
The Center for Creative Leadership, the gold standard in secular leadership training, created the "70/20/10 Rule" as the optimal way of learning. The mix is: 70% focus on challenging on-the-job experiences, 20% focus on coaching and mentoring, and 10% focus on formal training. This rule challenges traditional training models. Most leadership development programs focus on formal, classroom education, with on-the-job experience given only token status and attention.
I believe we are falling prey to the same issue with Jewish education.
So much of our community energy focuses on that 10% (training). The typical American Jewish educational experience involves diligent young students sitting in a synagogue basement. Levels of Jewish education are often associated with years spent in formal classes. What about the 70% of challenging on-the-job experience? We need the Jewish education equivalent to challenging on-the-job experiences to grow our students' skills.
Here are two to ways to make this happen and enhance Jewish learning.
First, let's live the ritual instead of simply learn about it in a book or classroom. We've done this well with Shabbat. Many Israel trips and youth group conventions help participants learn the in-and-outs of Shabbat with the expectation that they'll take their experiences and translate them to their own homes. We can do the same for other celebrations. While students may first encounter instructions in a classroom, their education isn't fully complete until they feel compelled and capable to perform the rituals on their own.
Second, let's connect Jewish life – values and ideas – to our lives in the everyday world. Jewish education should give a framework for applying values and ideas to life in the real world. Let's embrace that wisdom and use it to answer the questions we face. Where should I live? How should I parent my children and be a child to my parents? What job should I take? Whom should I vote for? What is my part in building community? Answering these questions in the context of Jewish ideas is Jewish learning – this is that 70% on-the-job training.
For too long Jewish education has been thought of as the precursor to Jewish living. We must think of them as one and the same.
One in a series from our inaugural Blog B'Omer.
Adam Simon is Executive Director of the Aviv Foundation.