#ReadAcrossAmerica with Dr. Seuss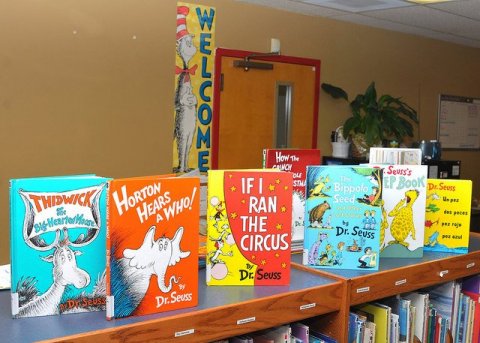 The first weekend of March is a special weekend for readers. March 1 is National Read Across America Day. On March 2, we celebrate the birthday of Dr. Seuss.
When I was younger Dr. Seuss books were a staple in my house. My father would read "Green Eggs and Ham" at least two nights a week. He has continued this tradition as he reads to my nieces whenever they visit. Did you know that today there are over 60 books published by Dr. Seuss. But who is Dr. Seuss? Theodor Seuss Geisel, born in 1904, published his first book under the name Dr. Seuss in 1937. Fun fact, his first book, "And to Think That I Saw It on Mulberry Street," was rejected 27 times before it was finally published by Vanguard Press. He is best known for his rhymes and characters including the Lorax, the Grinch, and the Cat in the Hat.  Theodor Seuss Geisel died on September 24, 1991, at the age of 87 but his books are still very much alive in classroom libraries around the world.
Even though March 2 falls out on the weekend this year, many teachers plan to celebrate the life of this great author. Here are some activities we have created to help you inspire your planning for this fun day on the calendar:
Book Creator - using this tool either on an iPad or on a laptop students can create an ebook about the life of Dr. Seuss, one of the characters of Dr. Seuss, or record themselves reading a Dr. Seuss book. Students can create an ebook library and celebrate their published books by reading them on Read Across America Day.

Chatterpix - this iOS app allows pictures to have a voice. Students can create a Dr. Seuss piece of art, take a picture of their artwork using the app, slice a speaking hole, and record a birthday message or wish for Dr. Seuss.

Adobe Spark - students can use this tool to create posters of the word families found in Dr. Seuss's books. They can also create digital posters of their favorite Dr. Seuss characters to decorate their classrooms.
Here are some additional resources and ideas for your Dr. Seuss planning:
Happy birthday Dr. Seuss and National Read Across America Day! #readacrossamerica
Monica Brandwein is the Educational Technology Consultant for DigitalJLearning.