Rhyming Resources for Poetry Month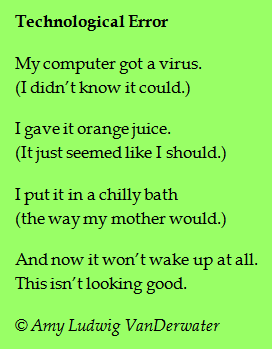 April is National Poetry Month. Poetry and technology have more in common than most people realize. To create a poem and a piece of software, authors must create and adhere to a series of patterns and rhythms. Writing poetry is a great way to infuse your technology curriculum with an interdisciplinary aspect.
I remember when I was younger I always loved making acrostic poems. To me, they were the easiest types of poems to create. As an adult, I have made many rhyming poems for weddings, bridal showers, and b'nai mitzvahs. With rhyming poems, it can sometimes be a bit tricky to find the right words to rhyme, but once you sit down, your creativity will begin to come out through your poem.
As a teacher, you might find that poetry can sometimes be a challenging topic to teach students. Students are afraid of poetry and sometimes even use the dreaded 'h' word (hate!). But there are so many different types of poems! There's something for everyone. To help you prepare for National Poetry Month we have compiled a list of resources and lesson plan ideas that use technology and apps.
Poetry Lesson Plan Ideas and Resources:
Digital Poetry Creation Tools:
What is your favorite type of poem, and your favorite poet? Wishing you a month filled with rhymes, haikus, and sonnets!
Monica Brandwein is an Education Technology Consultant for DigitalJLearning at The Jewish Education Project.