Small Moments with Lasting Impact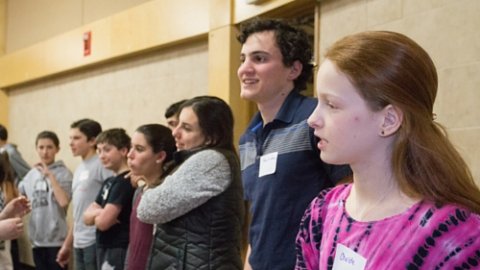 High school was very challenging for me. I have a learning disability and while many of my peers took honors classes and easily earned straight A's, I worked and struggled for every B and B+ that I earned in my mainstream classes. But I worked hard and by 11th grade I found myself in an honors English class. I remember feeling intimidated and a little overwhelmed. 
A few weeks into the first marking period, I approached my English teacher. I couldn't handle the workload. I couldn't meet expectations. I'll never forget the conversation that ensued with her. "Les," she said, "I think you're selling yourself short. I see how hard you work and how talented you are. There's no way I'm going to let you drop this class or fail, and I'm going to do everything I can to help you succeed."
Nearly twenty years later I still vividly remember that conversation and the impact it had on me. I haven't kept in touch with that particular teacher, but her belief in me has left an indelible mark. My teacher helped me to feel more confident in my own abilities and supported me while I was unsure of myself.
Now, imagine my surprise when a few weeks ago at a shabbaton for LGBTQ teens and allies hosted by Keshet, when a younger staff person approached me and said, "Les, you worked at Kutz Camp in 2005, right? I just wanted to thank you. I was a teen at camp while you were on the staff and you were one of the first people I came out to. You told me it was going to be OK and you were right." I was floored. 
As I sat and spoke with this person for some time, trying to remember her, I recalled a conversation with a young person in lots of pain, struggling. "Will I be accepted by my friends? Will my parents kick me out of the house?" We sat on the steps of the cabin until very late in the evening and I tried to be reassuring. I emphasized that there was hope; that things would get better. 
I had no idea that a decade later we'd again cross paths. It was so inspiring for me to see this young person, now validated, affirmed, and confident in her own skin, dedicating her life to educating young people and being a positive transgender Jewish role model for children and teens. I won't ever know what exactly it was that I did to make that camper feel safe enough to trust me, but all I could do in that moment was be there for a young person who needed me.
As educators, we rarely get the opportunity to get to know the adults that our students become. Most of our students graduate and move on into the world, and all we can hope for is that we've done our job in providing our students with tools, skills, and support structures to effectively navigate their lives. As educator Nel Noddings said, "I do not need to establish a deep, lasting, time-consuming personal relationship with every student... but be totally and nonselectively present to the student-to each student. The time interval may be brief, but the encounter is total." 
Truly, we never know the impact that one conversation, one small moment in time may have on our students. By giving ourselves over to our students fully and completely, we not only validate them and make them feel cared for, but we also model our own caring – demonstrating empathy while also providing our learners with safe spaces to grapple with the big questions that will help to shape their future selves.
One in a series from our inaugural Blog B'Omer.
Les Skolnik is Education Consultant, Teen Engagement at The Jewish Education Project.