FindYourSummer.org Ambassadors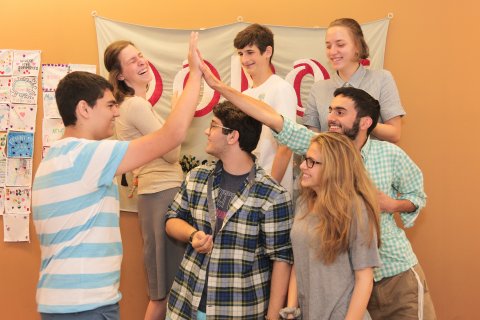 Apply for FindYourSummer.org Ambassadors and learn about the diverse landscape of Jewish summer experiences to help your teens make informed decisions and get excited about summer! Ambassadors and their institutions will receive compensation for teens who ultimately enroll in programs listed on FindYourSummer.org. Open to New York (5 boroughs, Westchester, and Long Island) youth professionals only. The deadline to apply is August 1, 2019.
CLICK HERE FOR MORE INFORMATION.
"Being an Ambassador let me add to my toolkit an incredible resource for summer options. I not only learned about over 100 amazing programs but opened my teens' worlds to opportunities where they could grow and enrich their identities and Jewish self." - Avi Siegel, Director of the Waxman Hebrew High School and Youth Engagement, Temple Israel of Great Neck
"The FindYourSummer.org Ambassador Program introduced me to many summer programs outside of the Jewish organizations I already had connections to. Being able to present an incredible resource to our families and have shared knowledge and an understanding of programs really improved my ability to service my teens and community." - Joey Falk, Teen Programs Supervisor, Sid Jacobson JCC 
"FindYourSummer.org stands alone as a wonderful resource of summer programmatic options for 9th-12th graders. As a FindYourSummer.org Ambassador, the program  helped me to help teens discover their "Perfect Summer", as well as allowed me to have more meaningful and individualized conversations with them." - Lulu Belferder, Director of Youth Engagement, Temple Sinai of Roslyn
 
---

FindYourSummer.org is jointly funded by UJA-Federation of New York and the Jim Joseph Foundation and operated by The Jewish Education Project. Together, we're working to bring fun and meaningful summer experiences to more Jewish teens.