Creativity and The Arts in Early Childhood: Selected Resources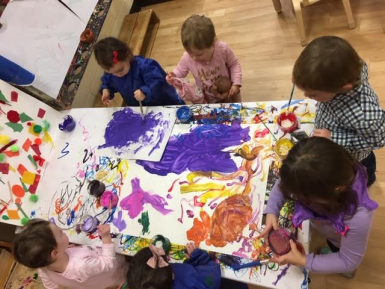 This evergreen resource guide is being developed by our Early Childhood and Family Engagement Team at The Jewish Education Project. It is in support of and will grow in response to our work and programs around Creativity and The Arts in Early Childhood.
Further down this webpage, you'll find several Featured Resources that we will rotate from the full collection which we hope you will "Access and Explore" by clicking on the button below.  
We hope you will share your resources with us or other thoughts about this guide by sending them to resourceguides@JewishEdProject.org.  
ACCESS AND EXPLOREWe are providing this version as a Google Doc so that educators can add it to their Drive, if they want, or make a copy to work with on their own.
 
---
Featured Resources
VIDEO: Arts-Based Jewish Education Video Series
This video series was created by The Jewish Education Project to highlight current Jewish educational models and approaches and to underscore their powerful connection to neuroscience. The early childhood model included in this series is the Little Avant-Guards program run through the Washington Heights YM-YWHA in NYC, an intergenerational program for Russian-speaking Jewish families.
METHODOLOGY & APPROACH: Stonework Play
Stonework Play is an approach to kinesthetic play for children of all ages focusing on a never-ending canvas through which children can be creative and develop self-expression. It was developed by Diana Suskind while visiting Napal and working with children who had limited resources and materials. Diana offered the stones to the children and developed a 5-step process in the creative process: Gathering, Constructing, Rendering, Narrating, Sharing. In addition to the video that Diana Suskind created (available in the link above), you can watch this wonderful video of it being applied in a preschool setting.
BOOK: Cup: A Vibrant Vessel of Learning and Creativity | by Bridgette Towle and Angella Heape | 2018
Two masterful teacher-researchers tell the story of an unexpected co-created project of investigation with a group of four-year-olds. The children pursue ideas of meaning as educators strive to understand and strengthen the children's thinking about their pursuits. All of this as the children investigate simple plastic cups.
ARTICLE: Theater Magic: How CSBT is Putting Family Engagement Center Stage
The Covenant Foundation | Sight Line, Vol. 20, Sept. 2019, The Future of Jewish Family Engagement.
 
---

Be sure to access our complete Resource Guide in Google Doc format to see these and the rest of our resources which you will find organized into categories that include:
Videos

Quotes

Documents & Tools

Methodologies & Approaches

Articles

Books

Research