Leadership in the Wilderness: A Webinar Series for Jewish Early Childhood Leaders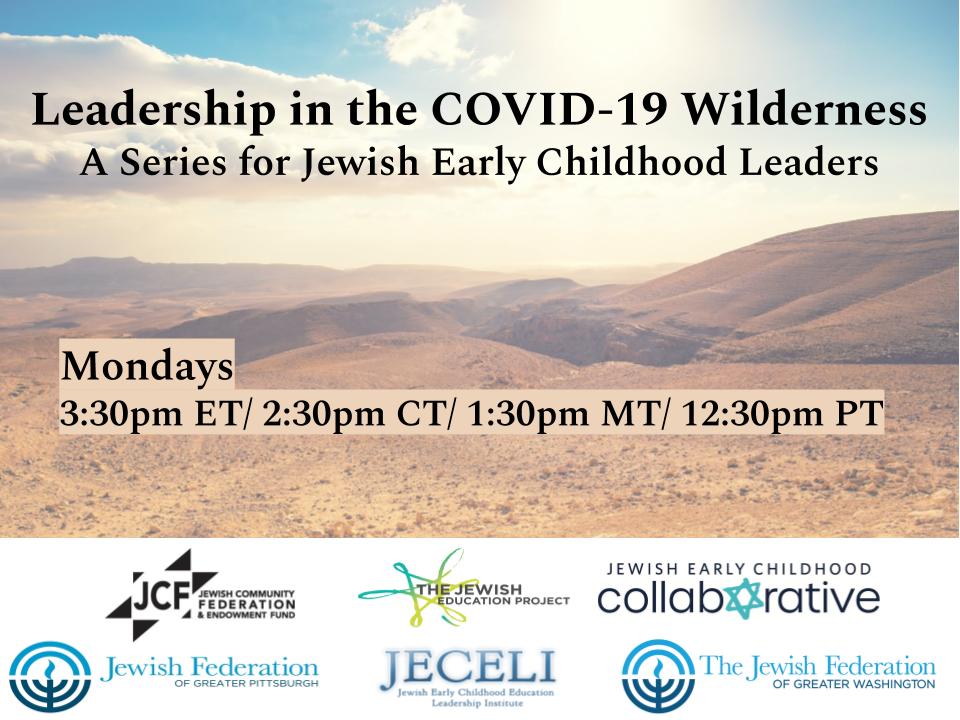 About the series
This series of webinars, each followed by communal conversations by region, is providing leaders in early childhood with emerging wisdom and resources to help them navigate through the challenges and changes during COVID-19. 
Each session features experts on leading in this time of uncertainty. The communities participating in regional conversations following each 1-hour presentation include the greater metro areas of Chicago, New York, San Fransisco, Washington DC, Cleveland, Dallas, and Pittsburgh.
This series meets Mondays during May and June from 3:30-5:30pm ET/ 2:30-4:30pm CT/ 1:30-3:30pm MT/ 12:30-2:30pm PT. 
Click here to view details of the emerging content and presenters, and to register for the series of weekly webinars.  
 
---
recordings, notes, and resources
Session 1 | The Pillars of Cloud and Fire: Guidance and Light for the Journey | Presenters: Meir Muller, Ellen Dietrick, Monica Wiedel-Lubinski, and Noah Hichenberg
In this session, the presenters offered a window into how they are leading and what was guiding their decision making in the current environment. In particular, we have asked them to tell us how they are thinking, what that looks like in practice, and why they are thinking in that way. The session began with a text study to help us lean into our ancient tradition for some contemporary guidance.
---

Session 2 | Seeing the Past and Present: Leadership and Vision | Presenter: Dr. Erica Brown
---

Session recordings and notes will be added each week.