Allison Kapusta - Young Pioneers Award 2018 Recipient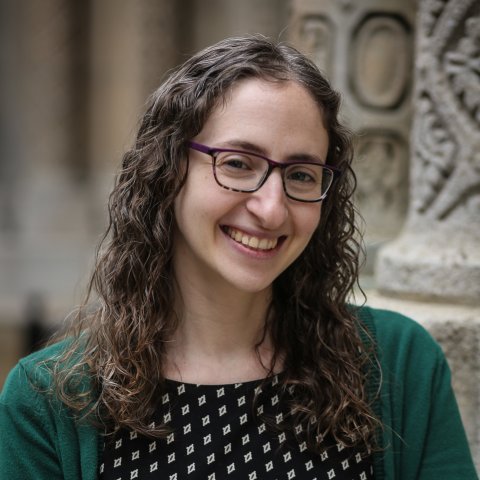 Allison Kapusta, Assistant Director of Family Life and Learning at B'nai Jeshurun, oversees the synagogue's young family programs including weekday classes, Shabbat services, and holiday celebrations. Allison enjoys creating engaging experiences for families looking for community and connection to Jewish life, and serves as a guide and resource as families explore Judaism in ways that are meaningful to them. She especially loves inviting families out of their comfort zones, for example, at the annual Young Families Retreat that takes place at a camp outside the city, and finding that the connections made during these experiences are deep and lasting.
Prior to joining BJ, Allison spent many summers working at Young Judaea camps in New York and Wisconsin, and also worked on the Jewish programming team at Sixth & I Historic Synagogue in Washington D.C. Allison received her BA in Judaic Studies at Binghamton University and completed her MA in Jewish Education at the William Davidson Graduate School of Jewish Education at the Jewish Theological Seminary. She is also a part of The Jewish Education Project's Family Engagement Network. Allison is grateful for her husband, Pablo, and son Gavi, who are frequent participants in BJ's family programs!
From the Recipient:
"I am truly honored to receive this award and I am inspired to keep creating unique opportunities for families to engage with Judaism and Jewish life in ways that are personally meaningful to them. Receiving this award affirms my belief in the power of community and I am grateful to The Jewish Education Project for their commitment to supporting professionals in this field. I am motivated to continue exploring Jewish values and traditions with our youngest community members as they are the future of the Jewish people."
Reflections from Colleagues:
"Allison has this ability to fasten ideas and awaken them into life through great precision. It is her precision that I am in awe of each day." - Michael Witman, Director of Family Life and Learning, B'nai Jeshurun
"We feel blessed by our continued partnership with The Jewish Education Project. Allison Kapusta's achievement in the Young Pioneers Award displays how two institutions can partner for a bright future in Jewish Education." - the B'nai Jeshurun community