Andrew Davies - Young Pioneers Award 2018 Recipient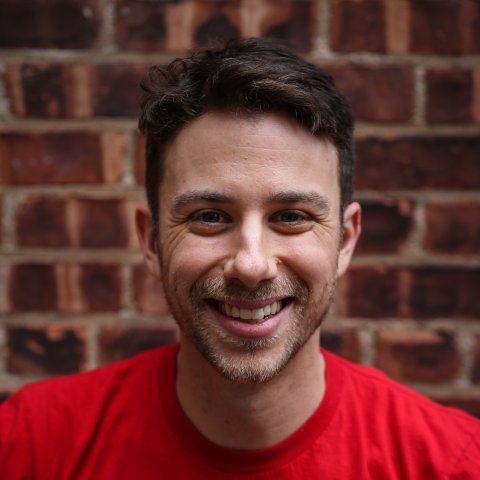 Andrew Davies is an improviser and facilitator based in Philadelphia, PA where he lives with his wife, Molly, and dog, Ducky. Andrew received a B.A. in English Literature from Brandeis University, went on to study Improvisation at The Magnet Theater, and received a certificate of Facilitation from Georgetown University.
In 2011 Andrew co-founded The Bible Players, a comedy team that is improv-ing Jewish Lives. The Bible Players have toured in 25 states, visiting hundreds of camps, schools, and synagogues teaching Jewish Values with a sense of humor. Andrew walks softly and carries a big Shtick!
In 2016 Andrew co-founded the non-profit CharacTours, an interactive theatrical walking experience where the past visits you. He is the Executive Director of both The Bible Players and CharacTours. Andrew is honored and grateful to be receiving the Young Pioneers Award from The Jewish Education Project.
From the Recipient:
"It is such an honor and a privilege to be named a recipient of this Young Pioneers Award. It makes me feel that my simple idea of using improv and comedy to teach Jewish values, has had a big impact. Further it encourages me to keep dreaming of the Jewish community I want to see, and creating programs to help us get there. As Golda Meir said, 'We must fan the tiny inner sparks of possibility, into great flames of achievement.'"
Reflections from Colleagues:
"Watching Andrew is watching a master at work. His programs are creative, engaging, full of meaningful content, and consistently high in quality. He raises the game and inspires others, including me, to go above and beyond. I'm so thrilled that Andrew is being recognized for his visionary work. I know I wouldn't be the kind of educator I am today without him!" - Eliana Light, Music Educator, Department of Family Life & Learning at B'nai Jeshurun
"This award is an honor for our organization. To have Andrew recognized as a young pioneer confirms what we at The Bible players already knew: Andrew is innovating new ways to teach Jewish values values, mitzvot , and Torah stories. Andrew has been the visionary leader of The Bible Players' evolution. It is gratifying to see his talents recognized outside of our organization. This is also coming at the perfect time, at the seven-year anniversary of our company's inception, to motivate us to continue pushing the limits of Jewish education and creative thinking." - Aaron Friedman, Co-Founder/Artistic Director of The Bible Players
"The Jewish Education Project Young Pioneers Award 2018 is a wonderful recognition of Andrew's well deserved efforts on behalf of CharacTours. Andrew has been a crucial component of the project from its conception through its present day success, and I can't think of any individual more deserving of an honor pioneering Jewish education in such engaging, innovative ways." - Jonathan Goldstein, Co-Founder/Tour Director of CharacTours
Summer 2021 Update:
"Receiving the Young Pioneer's Award was a confirmation internally, and externally to those we visit, that the work I'm doing is impactful and worthwhile," Andrew said. "Since 2018 my comedy team The Bible Players has expanded from two to six performers and now has hubs in New York City, Los Angeles, and Chicago. During the pandemic we created many new programs for Zoom and now lead shows and workshops both online and in person across the country."