Esther DuBow - Young Pioneers Award 2018 Recipient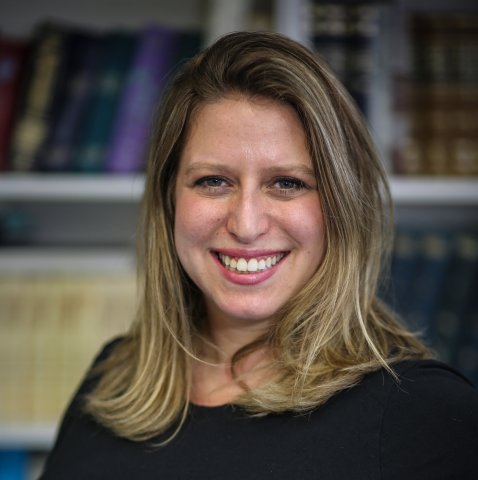 Esther DuBow is a Jewish Studies teacher and the Special Programs Coordinator at the Schechter School of Long Island. She lives in Manhattan, was born in Brooklyn, and grew up in Woodmere, attending the Yeshiva of Flatbush and HAFTR during her formative years. Esther received a Bachelor of Science in Family Science from the University of Maryland and continued her studies in Jerusalem at the Pardes Institute of Jewish Studies. She completed the Pardes Educators Program and has a Master of Jewish Education from Hebrew College and a Certificate of Advanced Jewish Studies from Pardes.
Esther feels like she has found a home at Schechter Long Island and is proud of the work she's done there since returning from Israel. She uses chavruta learning in all her text classes, asking students to find the everyday relevance in the nuance of traditional Jewish sources to pass on the love of learning that she brings to her craft. In addition to being a classroom teacher, Esther works with other faculty and student leaders to plan and offer exciting programming for the school, always looking for another way to engage the demographic. Outside of school, two of Esther's loves are theatre and cooking, both of which she has worked to bring to SSLI, whether through class trips to Broadway shows, inclusion of cooking competitions at school events, or the creation of a Jewish Food Culture course wherein upperclassmen explore various world Jewish communities by learning their histories and cooking their foods. The best bit? When students sit down for family dinner every 6th school day at 3:15 pm!
From the Recipient:
"I know I'm lucky because I love coming to work every day. I know I'm fortunate because I work in a place where that love is returned and my work is appreciated. But knowing that The Jewish Education Project thinks I'm innovative and doing special work to help form Jewish identities, that is truly gratifying."
Reflections from Colleagues:
"I couldn't be more proud of Esther DuBow on her receiving The Jewish Education Project Young Pioneers Award. Yet, I am not surprised that she is being recognized as an innovator in Jewish Education. She has the immense power to transform brilliant ideas into engaging curricula, beautiful art, and the most fun activities - all the while driving home the message to our students to take pride in their Judaism, know their traditions and love their community. We are blessed that Esther DuBow has made Schechter School of Long Island her professional home." - Ofra Hiltzik, Upper School Principal, Schechter School of Long Island