K.M. (DiCo) DiColandrea - Young Pioneers Award Recipient 2021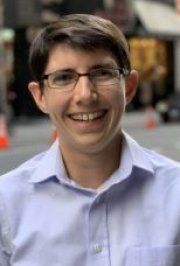 After graduating with a B.A. in Philosophy from Yale University, DiCo spent 12 years teaching Latin and Speech & Debate in New York City public schools. While teaching, he earned his Master's in Special Education and won the Teach for America Alumni Award for Excellence in Teaching. He was named a Master Teacher by Achievement First for his work with the Speech & Debate Team he founded, which has won several national championships and has been featured in Time Magazine and MSNBC.  He converted to Judaism in 2014 and, in 2019, joined Congregation Beth Elohim as the 7th Grade Lead Educator for Yachad, CBE's K-12 Jewish and Hebrew education program. He became took on the role of Assistant Director of Yachad in the fall of 2020. In his spare time, he runs the Brooklyn Debate League, which he established three years ago to make debate more accessible to students from low-income communities. He's proud to be a queer, trans, Irish-Italian, native New Yorker. 
From the Recipient:
"I am very humbled to receive this award. I feel grateful that The Jewish Education Project recognizes that Jewish students engaging with the social justice rallying cries of their time is part and parcel of their Jewish learning - or to borrow Rav Kahana's words, 'This too is Torah.' "
Reflections from Colleagues: 
"Congregation Beth Elohim's Yachad program for K – 12th graders and their parents succeeds in its dedication to inclusivity rooted in deep and diverse Jewish living, during a pandemic, in great part thanks to DiCo DiColandrea. The Young Pioneers Award celebrating DiCo's generous heart, dedicated mind, deep love of Torah, and detailed organization as an act of service to staff and families alike helps uplift all of CBE, when we see ourselves reflected in DiCo and who DiCo helps each of us to be."   
Tehilah Eisenstadt, Director of Yachad and Family Education, Congregation Beth Elohim
Video by Shulamit Photo + Video @shulamitphotovideo www.shulamitphotography.com
---
YOUNG PIONEERS AWARD 2021 | K.M. (DiCo) DICOLANDREA | MELISSA HUME | DAMMARA KOVNATS HALL | PAMELA SCHULLER | AVI SIEGEL