Embracing Israel in 2020: Crafting Our Learning and Celebrations: Presenters
EVENT HOME | WORKSHOPS | PRESENTERS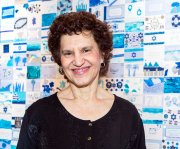 Ellen Alt is an artist, art educator, art coordinator and all about the ART. As the Artist–in–Resident at the Park Avenue Synagogue she works with all departments to infuse and design programs that reinforce education through a visual lens.  She is the art coordinator for the Solomon Schechter School of Manhattan and from 2002 – 2017 taught creativity for the classroom in the graduate education department and visual arts in the precollege BIMA and Genesis programs at Brandeis University.  Ellen lived in Israel for 15 years, working with both Jewish and Arab citizens on concrete sculpture and mural projects.  She is an Israeli citizen and goes back regularly to visit family and friends.
Ellen's artwork is inspired by languages, alphabets and symbols. Starting with a calligraphy class in college, this interest has led from Canaanite pictograms, through the history of writing, to Ketubot commissions and more recently to messages embedded in ice and floating in water as part of her current work about climate change. Her mixed media work has been exhibited in the U.S, Germany, Russia, China, England and the Middle East. One of her pieces was presented to Hillary Clinton on the occasion of the peace treaty between Israel and Jordan and is in the collection of the White House. She holds an MA in studio art from New York University and a BFA from the Massachusetts College of Art and Design. She lives in New York City and maintains a studio in Long Island City. Her husband, Carlos Narvaez, was a photographer from Peru.

https://www.instagram.com/ellen_alt_artist
http://www.ellenaltjudaic.com/
http://www.ellenalt.com/
http://www.ellenaltcommunity.com/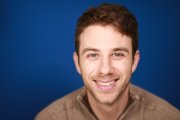 Andrew Davies is an improviser and facilitator based in Philadelphia, PA where he lives with his wife Molly Wernick and tiny dog Ducky. Andrew received a B.A. in English Literature from Brandeis University, went on to study Improvisation at The Magnet Theater, and received a certificate of Facilitation from Georgetown University. 
In 2011 Andrew Co-Founded The Bible Players, a comedy team which is Improv-ing Jewish Lives. The Bible Players have toured to 25 states, visiting hundreds of camps, schools, and synagogues teaching Jewish Values with a sense of humor. In 2016 Andrew Co-Founded the Non-profit CharacTours, an interactive theatrical walking experience where the past visits you. Andrew can be reached at Andrew@TheBiblePlayers.com.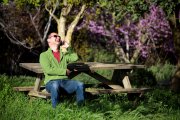 Robbie Gringras is a British-born Israeli living in the Galilee, working in education, performance, and writing. Since emigrating to Israel with a Literature degree from Oxford University, a teaching qualification, and his own theater company, he has trained hundreds of educators in generating honest complex connections to Israel. While Creative Director of Makom: Israel Education Lab, he coined the phrase "Hugging and Wrestling with Israel", drove the 4HQ System of Israel Education, and wrote for and ran the Makom website. His article on "Educating with Art without Ruining It" was commissioned for the International Handbook on Jewish Education. Robbie has also taught at Israel's main theater schools, directed several plays, and his solo shows have performed throughout the world in English, Hebrew, and Spanish. He's married to Dorit, a magical stained-glass artist, and they have two kids.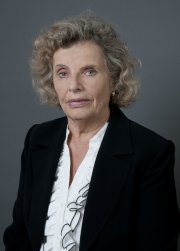 Rachel Korazim is a graduate of Haifa University with a PhD in Jewish Education. She is a Jewish education consultant specializing in curriculum development for Israel and Holocaust education. Rachel teaches at Israel's well known learning centers such as Pardes and the Shalom Harman Institutes as well as numerous world Jewish communities.
Since her first Shlichut to Canada where she was the head of JAFI delegation from (1985 to 1988) she is involved with Jewish education in the Diaspora; creating and implementing in-service training programs for educators, writing educational materials, counseling and teaching. Rachel is familiar, through many visits, with the Jewish education communities of the US, Canada, Latin America, and Hungary.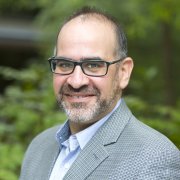 Rich Walter is the Vice President of Curriculum and Outreach, CIE; Associate Director of Israel Education, ISMI. He has extensive experience increasing community involvement in Jewish formal and informal learning for a wide variety of age groups. Prior to joining ISMI and CIE as Associate Director for Israel Education in August 2012, he served as Director for Jewish Life and Learning at the Jewish Federation and Jewish Community Center of Greater New Haven and Director of Education and Community Development at the Bureau of Jewish Education in Rhode Island. From 1997 to 2001 he taught in the Solomon Schechter School in Providence, Rhode Island. He was educated at Brandeis University where he received his BA and MA degrees focusing on Jewish history, Middle Eastern history, and Judaic Studies.