The Jewish Education Project announces the Robert M. Sherman Young Pioneers Award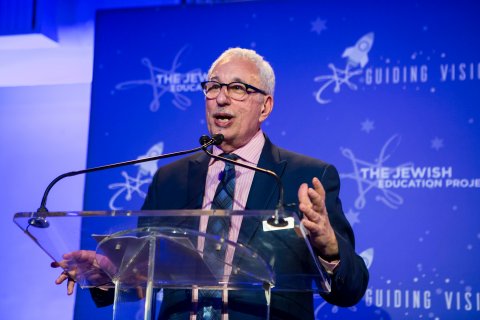 Organization announces renaming, expansion of prestigious award for Jewish educators
NEW YORK – The Jewish Education Project has renamed its flagship honor for emerging leaders in Jewish education after its longtime CEO Robert M. Sherman.
The organization announced the rebranding of the Young Pioneers Award as the Robert M. Sherman Young Pioneers Award at its annual Benefit on Thursday, April 11. More than 250 people attended the event.
Sherman joined The Jewish Education Project in 2007 and is retiring in July. During his tenure, he launched the Young Pioneers Award and several new initiatives at The Jewish Education Project.
"The Young Pioneers Award was one of many ideas that Robert brought to fruition. It is part of his belief that offering support and social capital to young Jewish educators allows them to think creatively," said Howard Wohl, board member emeritus who played a key role renaming the award. "In honor of Robert's impact on Jewish education in the New York area and across North America, we have linked him with one of The Jewish Education Project's major initiatives."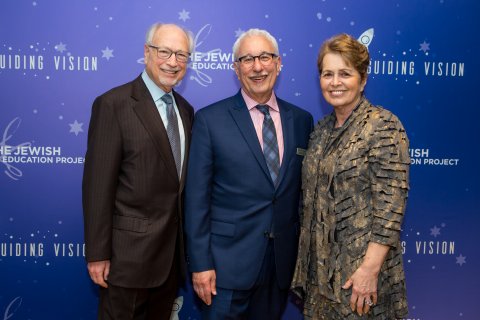 (pictured from left: Howard Wohl, Robert M. Sherman, and Diane Wohl)
"I am humbled and honored by this special recognition," said Robert M. Sherman. "Starting the Young Pioneers Award has been a highlight of my career in Jewish education. These educators are some of the brightest and most creative Jewish educators in the country. I love learning from recipients and am continually awed by their groundbreaking work. I am touched that my name will be associated with this special group of educators."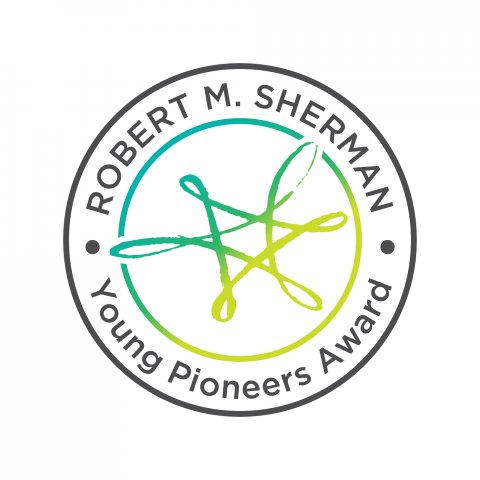 The Robert M. Sherman Young Pioneers Award will provide a year-round network experience for all current and alumni recipients.  The alumni network is becoming a resource that past recipients use to advance their careers and work and drive meaningful and lasting change in the field.  This bold element will help the Young Pioneers spread their innovative methods and inspire other educators by example. In the coming years, The Jewish Education Project plans to expand the Robert M. Sherman Young Pioneers Award network into a think tank, speakers bureau, a resource to the broader Jewish community.
Since 2012, the Robert M. Sherman Young Pioneers Award has recognized 40 Jewish educators from greater New York that push the boundaries in Jewish education. Award recipients demonstrate a personal and professional commitment to new ideas, and proven use of technology or other innovative approaches to inspire children, teens and families. Recipients work in day schools, camps, youth groups,  supplementary schools, community centers, seminaries and in foundation settings.
In addition to celebrating the Robert M. Sherman Young Pioneers Award, The Jewish Education Project's event paid tribute to longtime board member Dr. Mark Ramer, z"L, who passed away suddenly two days before the event. Ramer also played a pivotal role in the decision to rename the award.
"Mark had the most generous heart in helping others and helping Judaism flourish here in New York and across the world," said Craig Padover, president of the board of The Jewish Education Project.
View more pictures from The Jewish Education Project Benefit.