Two Young Pioneers Award Recipients Named Pomegranate Prize Winners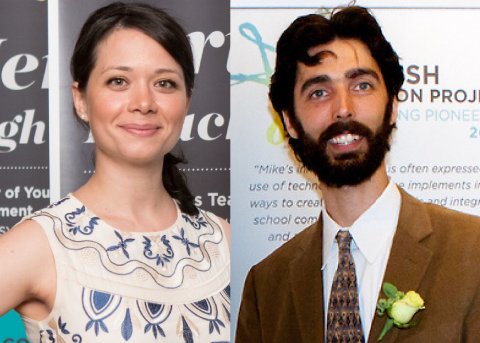 Two familiar faces are among the 2017 recipients of the Covenant Foundation's Pomegranate Prize.
Among the five recipients, who are awarded funding toward professional development to further their goals as educators, are Yoni Stadlin and Jane Tuv, past recipients of The Jewish Education Project's Young Pioneers Award.
Yoni Stadlin (YPA 2012), Founding Director of Eden Village Camp in Putnam Valley, New York, teaches a cross-section of children from varying denominations about sustainability and agriculture in the context of Jewish values.
Jane Tuv (YPA 2016), Director of Programs for Russian-speaking Children and Families at Generation R of JCC Manhattan, teaches Russian-speaking Jewish families about Jewish heritage and culture through the prism of performing arts.
In 2014, Rabbi Michael Bitton was recognized with the Pomegranate Prize, following his receipt of the Young Pioneers Award in 2013 for his work engaging students with digital and online tools in the classroom at Magen David Yeshivah High School.
Interested in nominating an educator for the next cohort of Young Pioneers Award recipients? Sign up to be notified when our 2017-2018 nomination process opens.
The Jewish Education Project Young Pioneers Award celebrates forward thinking and innovative educators, under the age of 36, who demonstrate a personal and professional commitment to new ideas, and proven use of technology or other innovative approaches to inspire children, teens and families.