More Than '13 Reasons Why': How To Talk With Your Teens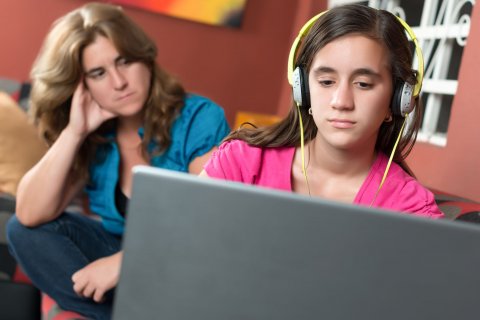 Dear Evan Hansen. 13 Reasons Why. Both of these shows have captured the attention and imagination of those of us who work with and treasure teens. Both of them look at the aftermath of adolescent suicide. Both are compelling, artistic and give us insight into the sometimes creepy and scary worlds of teenagers. And both have caused alarm for parents, school personnel and teen professionals.
Troubled teens are NOT a new topic for the teen imagination. Think of Carrie, The Breakfast Club, Thirteen, Girl Interrupted. Books include Go Ask Alice and The Perks of Being a Wallflower. We're seeing these topics accessible to adolescents without any adult intervention or monitoring. How many parents knew about 13 Reasons Why BEFORE their child watched it? How many have found ways to start a real conversation about it? How many still don't know about it?
So we don't really know what kids are thinking about these graphic depictions of high school, with rape, sexual abuse, suicide, bullying betrayal and totally incompetent adults. We're left to wonder, "what do teens take away from this messaging?"
Before we can talk to teens, though, we need to assess and manage our own reactions. What are YOU feeling? Is it the graphic rape, the explicit suicide that gets you? Or is it the constant bullying, both addressed to and from Hannah? Is it the cruelty of her tapes? Is it the blindness and ineptitude of the adults? Figure out what's bothering you, and try to put that aside in your conversations with teens and parents. That's your stuff, and you have to be sure it's not influencing the path of any conversation you're having.
Start with questions, not statements. Ask them what they've seen and heard.
So what do we engagement professionals say to teens? Start with questions, not statements. Ask them what they've seen and heard. Did you see it? What do you think? Think about questions that open conversation, not statements that imply opinion. So don't say "Is your school like THAT?," with shock and disappointment. Teens are exquisitely attuned to tone of voice and sensitive to your judgment. Follow the teens in their concerns – this conversation is about what they think, not about your discomfort and your opinions! Don't be fearful about bringing it up – they're talking about it, with or without you! If they don't want to share with you, they won't.
And what do we say to parents? I assume that many parents don't even know about the show. Do you tell them? Is there a difference between telling parents about 13 Reasons Why and telling them about Dear Evan Hansen? In both cases, I believe that we can tell parents. Not to alarm them, but to keep them aware. Parents who have read the book need to know that the show is much more graphic and troubling. They need ideas of HOW to talk to their kids. I would advise any parent to ask their teens about the show, and to ask their child which was the most compelling episode, and then ask (not demand) that they watch it together. Not most graphic, not most upsetting. Most compelling – which allows the teen to teach their parent what mattered, what pulled them in. Now, not every parent or teen will want to share this. You can't change that. Families are idiosyncratic and none are ideal.
Open conversations about 13 Reasons Why, knowing that you are opening conversations about the topics it raises, just as we would talk about any important issue in the lives of our kids. Don't preach. Listen and support. Keep your own stuff out of the conversation. The worlds of teenagers have always been complex and painful. Be there and let them rely on you.
Dr. Betsy Stone received her Doctorate in Psychology from Yale University. She is a psychologist and for the last fifteen years has served as an adjunct lecturer at Hebrew Union College - Jewish Institute of Religion. Her classes include Human Development for Educators, Adolescent Development and Teens In and Out of Crisis. She also teaches a family education class in her synagogue, Temple Sinai of Stamford, for 6th and 7th graders and their parents, and likes to travel and teach about teenagers and their families. Betsy's book, "Happily Ever After," was published by Random House. Learn more about her upcoming workshop for teen engagement professionals, Dear Evan Hansen: On the Outside Always Looking In, part of our Teens Thrive Series.