Resolve to Learn This Year: EdTech Opportunities in 2018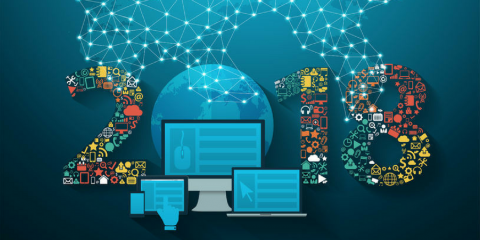 As we enter a new secular year many make resolutions to kick-start life changes for the next twelve months. At DigitalJLearning we are, of course, taking 2018 to continue learning more about EdTech! Our field is tricky; with technology changing and evolving practically every day there is always more to learn.
I want to share a few upcoming EdTech learning opportunities for this year for everyone to check out.
The big Kahuna! The EdTech conference everyone talks about. If you haven't gone before, this is definitely one to check out. If you have been before, go again! The registrations are open and registering early is helpful if you want to find good hotels to stay it. The submissions for presenting have already closed, but perhaps next year you can submit and try sharing your own knowledge with others. ISTE is enormous with thousands of educators coming every year and hundreds of sessions to choose from. There is always something for everyone whether you are a complete beginner to the field or a seasoned pro. There's also an Expo every year at which you can check out what new apps and tools are coming as well as try out new features of those you already know.This year ISTE will be in Chicago June 24th - 27th. DJLN will be at ISTE this year to help organize dinner activities during the Kosher meals provided by The AVI CHAI Foundation (more details coming soon.) We hope to see you there!
This is another great one. It's the educator-specific summit at the SXSW conference that takes place in Austin, Texas every spring. This year SXSW EDU is March 5th-8th. The keynote will be given by Dr. Micheal J. Sorrell, the President of Paul Quinn College. Under his leadership the college has become a model for urban higher education through their innovative practices and commitment to experiential learning. There is also a very large variety of sessions offered and organized by thematic tracks to help you find your way around and meet like-minded educators. Some of the tracks that look particularly meaty this year include Early Learning, Language Learning, and Leadership.
If you go you should also not miss The Playground - a hands on, interactive space with activities and strategies you can try out and later bring back to your own classrooms. The lineup includes everything from mathematics apps for the iPad to using yoga and hip-hip to encourage mindfulness.
Do you spend your weekends arguing about resource management over a game of Settlers of Catan with your family? Did you spend your teenage days glued to your Nintendo? Do you run a Thursday night Poker game with your friends? If you like playing and want to learn more about how to use that passion in the classroom, the Serious Play Conference is for you!
This conference is for professionals who believe that games and play can help revitalize and revolutionize learning. Speakers come from all walks of life - corporate, healthcare, educational, and government environments, but all are tied by the common thread of using game-based learning to advance their fields. There will be two Serious Play conferences this year, one in DC July 9th-12th and one in NY July 16-19th. More details are coming soon on the website.
If the topic of games in the classroom sounds great but you are not quite really to commit to a multi-day conference, or if you are but want to get started soon, DJLN is also running our own workshop on the topic. Our Playing to Learn: Games in the Classroom workshop will take place in our Midtown offices on February 13th. Registration is now open!
Last but not least, if you're looking to learn about educational technology and also catch some time by the pool, the CUE National Conference will take place in Palm Springs this year March 14-17. This has been one of the major EdTech events on the scene for years and it's a great place to learn, be inspired, and find a community of educators with similar EdTech goals to learn from and collaborate with under the California sunshine.
Poster sessions, lectures, and hands-on workshops will cover many topics. There will also be a playground space to try out new tools and techniques as well as a vendor exhibit area to check out what's coming out this year and grab some fun swag.
Honorable Mentions:
iNACOL Symposium 2018 is taking place October 21-24, 2018 in Nashville, Tennessee. We've been to this conference before and it's a great place to learn all about blended learning.
2018 Games for Change Festival in NYC is June 28-30th. I will be there and encourage any GBL enthusiasts to also check it out.
MakerFaire New York 2018 - Dates are still TBD. It's a blast to attend whether you teach STEM or just want to see what the maker movement is all about.
Got other great EdTech conferences in your plans? Let us know! We'd love to hear what else you hope to learn this year and connect you with other Jewish day school educators with similar goals!
Tatyana Dvorkin is Director, DigitalJLearning at The Jewish Education Project.