Thriving and Striving: The Journey of Jewish Teens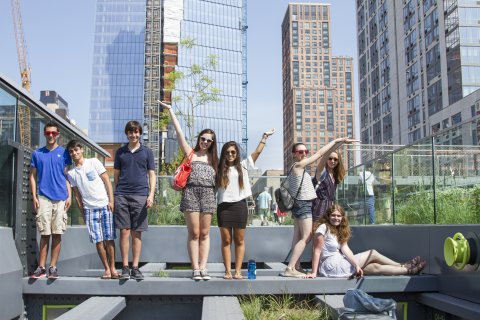 "Teens often feel they must become our narcissistic ambassadors to the world," said Dr. Brad Sachs to a room filled with Youth Professionals from all over the New York area. We all nodded our heads in understanding. We have all seen how stressed-out, exhausted, and confused teenagers feel these days.
At the recent Teens Thrive Symposium, 45 educators from local synagogues and JCCs, as well as representatives from NCSY, USY, URJ, and BBYO, gathered together to think deeply about adolescent development and how their journey affects the work we do on a day to day basis. Dr. Brad Sachs, a renowned author and psychologist, began with framing the adolescent experience as one of profound anxiety and mourning in which "to create a future…the teen must grieve for the past." He encouraged participants not to over-pathologize teen behavior but rather to see it as the necessary bumps along this difficult path.
Dr. Sachs then facilitated a panel of experts who spoke about healthy risk taking in adolescence. Mara Yacobi from JLoveandValues, Sharon Darack from JACS, and Rabbi Tamara Cohen from Moving Traditions presented their take on how teens need to be able to safely push boundaries during this transition period so that they begin to recognize their limits. Participants were invited to attend a workshop of their choice led by one of the panelists to further dive into a specific content area.
Fran Mendelowitz from InterACT New York treated us to superbly acted role plays that enacted typical scenarios that many of us had encountered: A boy caught drinking on a shabbaton weekend or a girl with a controlling boyfriend who suddenly is losing too much weight. Participants were invited to join the roleplay and ask questions of all the players to help further uncover the issues at hand.
By the end of the day there were, of course, still many questions, but the exploration of teen behavior as a manifestation of this larger journey was time well-spent by all who attended. There was clearly a lot to still process and a lot to think about. As one participant stated after the event, "I'm still thinking about the difference between preparing for adulthood vs. performing for adults. This stands out to me as something we need to think about as we rethink our b'nai mitzvah, teen engagement, and education programs."
More information about the symposium can be found here.
Pam Barkley is Education Consultant, Teen Engagement at The Jewish Education Project.