Choice-Based Model: Havurat Torah Va'adot
Temple Israel Center (TIC), White Plains, NY
Model Description | Update 2017
---
[va'adot=committees]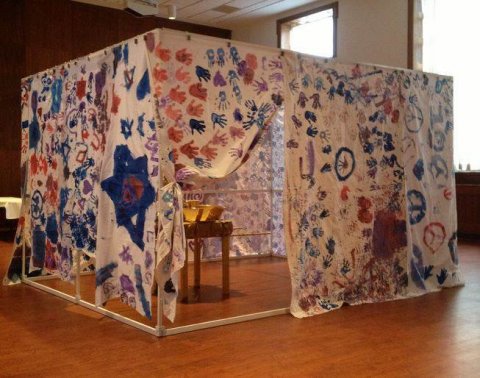 Model Summary:
Havurat Torah is a project-based learning initiative for teens that helps connect their Jewish identity to the real world. Learners meet once a week. Each semester they are able to choose one course and one va'adot (action committee) to participate in. The courses include different areas of interest like psychology, environmentalism and sports all through a Jewish lens. The action committees include tikkun olam, mitzvot and leadership. All committee options are connected to the larger synagogue community ensuring the students connect to the whole congregation.
Who are the Learners?
The teens in this program and whoever they are sharing their learning with: fellow teens, lay leaders in the community, and members of the congregation.
Who are the Educators/Learning Facilitators?
Clergy, educational director, full time educators, some part-time educators

The congregation has hired a group of full time educators who work to foster relationships among students as well as to teach and facilitate action committees.
When Does the Learning Happen?
Any day or time beyond the Wednesday nights, and Wednesday nights from 6:30-8:45 p.m.
Where Does the Learning Happen?
Learning happens in the synagogue and out in the community, in homes and in restaurants and in the park. There is no limit to where the learning happens. "It happens where the learning takes us."
What is the Learning? How is it Designed?
Torah: Wednesday nights from 6:30-8:45 p.m. Teens see how the Jewish values they learn can inform the choices they make every day. Jewish learning becomes relevant and meaningful as teens build lifelong friendships within a caring community.   

The core of project based learning is for students to identify a real life challenge and then build the learning around it. An example includes a group of teens identifying that a child in their community had a very sick mother. They helped take care of the child afternoon and also studied Jewish teachings about caring for those in need.

Educators design curriculum based on the questions of learners. In lieu of a pre-determined curriculum, time is spent uncovering the interests of the teens and Jewish text is used to support learning. Learning is designed to foster Jewish knowledge and to foster meta skills such as critical thinking and problem solving. Parents and learners understand that learning fosters Jewish life skills as well as skills that help prepare them for the next stage of learning in college.

Teens have input in their learning environment and content. They are empowered to shape the culture of the school and are also able to choose the subjects they will explore, and with whom they will learn. An example includes researching Jewish teaching on a ritual decision, and working with the ritual life committee to pass a decision for the congregation.

The overarching goal is for learners to feel a sense of accountability and responsibility in creating a learning environment that is consistent with TIC's vision and two priority goals: Building community and living Jewishly. 
What Were You Trying to Achieve with this Model?
The evolution of the model began with TIC's teens. At the time, TIC was assessing the learning at the end of the year and asking the teens to give feedback on the program. While it became apparent that TIC was doing some things right, it soon became apparent that there was a need for more "hands on learning" rather than exclusively discussion-based learning. All of the educators believed in experiential learning. They also wanted to give teens more responsibility for the learning and put the teens in charge of what they would learn. TIC put the teens in the center.  
Key First Steps and Recruitment Plan:
Director of Congregational Learning writes an article about what is happening in the school once a month for the community, speaks about the model on Shabbat and at board meetings.  

Teens advertise Havurat Torah through their involvement in the community. Since Havurat Torah, the level of teen involvement both in the TIC as well as in the general community is much greater.   
Role of governance and Clergy:
Two rabbis teach in Havurat Torah. This was a big adjustment for them. One of the rabbis is the educator in the traditional setting because of his style of teaching.  

In general, the clergy are big proponents of Havurat Torah. In fact, one of the rabbis set up a meeting of students with the ritual committee because some of the teens had a suggestion about services.    
Budget:
Around $1,200 for the year for miscellaneous expenses.
Hiring Needs:
The ideal educators have MAs in education.  

They are knowledgeable about pedagogy as well as experiential learning.  

They work well as an education team.

They understand and like working with teens.
Relationship of Model to Congregational Learning System:
The majority of the teen learning is Project Based Learning but there is a component that is more traditionally based, honoring those students who want to learn in a more traditional way.
How Do You Describe Your Congregation?
TIC is a Conservative congregation with 830 families units, two rabbis and a cantor. In addition to the clergy there is a Director of Congregational Learning and a Director of Shorashim (K-6th grade). There is a director of youth and family education, a director of Student Services as well as 3 full time educators and 2 part time educators.

TIC's educational vision: TIC is an inclusive community that creates experiences which encourage each person to actively participate in a meaningful Jewish life leading to intellectual and spiritual growth of members regardless of age or of background. Central to our community are the values of Torah, prayer, Gemilut Hasadim (acts of lovingkindness), community, support of Israel and lifelong learning.
Supplementary Materials Include: