Happiness Hacks: Resources and Readings
Conference Page | Conference Recordings | Handouts & Related Resources
---

As a follow-up to our most recent and definitely stimulating Jewish Futures Conference on Happiness Hacks in Jewish Education, we have assembled some of the resources we used that day and some articles on this subject that may be of interest.
This is one of three pages on our site related to this conference (one other with a description/reflection and one with video recordings from that day) that you can switch back and forth between.  If you'd like to continue the conversation and/or have other resources to share, please do so at jewishfutures@jewishedproject.org.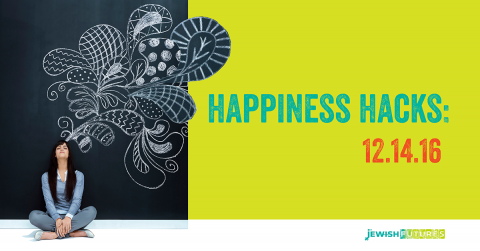 Conference launch and handouts:

Related Readings: 
Writing Your Way to Happiness by Tara Parker-Pope, New York Times January 19, 2015. This article discusses the benefits and techniques of expressive writing.
Get Up and Move – It May Make You Happier by Gretchen Reynolds, New York Times January 25, 2017. This article discusses the relationship between moods and physical movement.
Pursue Meaning Instead of Happiness by Joe Pinsker. The Atlantic, April 26, 2016. Includes a discussion with author Raj Raghunathan's book "If You're So Smart, Why Aren't You Happy?
Neuroscience Researcher Reveals Four Rituals That Will Make You Happier by Eric Barker, Barking Up the Wrong Tree. September 26, 2015. This article discusses the neuroscience research that supports strategies that prompt an upward spiral of happiness in your life.
Want to Happier? Ask Yourself This Question Every Day by Chris Winfield, Inc.com. Every morning Chris asks himself "Do I live in a good world or a bad world?" It's all a matter of perspective…...