Online/Blended Learning Model: FACEtime
Temple Beth El of Great Neck, Great Neck, NY
Model Description (and Video) | Model Narrative
---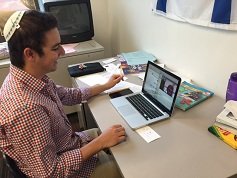 Model Summary:
FACEtime (Family and Children Engagement time) integrates classroom learning, family learning experiences and one-on-one learning (via skype or face-to-face). This is an alternative model designed to meet families where they are; there is flexibility in where and when learning takes place to address the challenges of families' busy schedules. Learners participating in FACEtime meet once a week face-to-face as a class, meet individually with a Hebrew coach either on skype or face-to-face for 30 minutes each month, and engage in eight family learning experiences during the school year. The majority of families choose to participate in this model over a 2-day model that is also offered by the congregation.
HEBREWtime is a component of FACEtime. Each month students participate in individualized learning with a Hebrew teacher one-on-one either in person or utilizing Skype to practice the Hebrew prayers they are working on in class. This Individualized program is tailored to meet student needs. It is unique in nature and designed to give students confidence in their Hebrew reading.

In addition to providing flexibility in the time and place of learning, some of the important qualities of HEBREWtime are that it is individualized (one-to-one), private, motivating and innovative. HEBREWtime reduces student frustration, enhances enrichment, allows students to progress at a faster rate, sets up students for success, fosters students' ability to practice Hebrew on their own, and builds a personal relationship between families and Jewish educators.
Who are the Learners?
Learners are children in 4th – 7th grade and their families. There are about 10-15 learners in a class that meets face-to-face each week. Learners then meet one-on-one with their Hebrew coach, either on skype or face-to-face, for 30 minutes each month.
Who are the Educators/Learning Facilitators?
The best model includes the classroom Hebrew teacher also serving as the Hebrew coach. This allows the classroom teacher to have a greater understanding of each student's Hebrew level, to better design classroom learning to the needs of the group, and to build a stronger relationship with learners and their families.
A number of the educators are students at a nearby college; the congregational school works in partnership with Hofstra Hillel. Some of the college students receive course credit from Hofstra for their work at the congregation.
There is a HEBREWtime coordinator. Some of the responsibilities of the coordinator include: setting up appointments with parents; sending out reminders about meetings; confirming that parents have RSVP'd; and sending out text messages to parents about their child's schedule.
When Does the Learning Happen?
Learners meet once a week (Tuesday afternoons) face-to-face in the classroom. Once a month, each learner meets individually with the HEBREWtime coach either face-to-face or on skype. The coaching time is designed to meet the needs of each family. The learner chooses the time to meet and if they will meet in person or online depending on the family's preference. Informal conversations between parent and Hebrew coach often take place during these coaching sessions.
Where Does the Learning Happen?
HEBREWtime group learning takes place in the classroom. Coaching takes place face-to-face in the classroom or at home on skype. FACEtime family learning experiences take place both in and out of the congregation.
What is the Learning? How is it Designed?
As part of FACEtime, families participate in eight family experiences. Families welcome Shabbat during participation in Friday Night Live, a transformative musical experience that connects families to one another and to Shabbat. Immediately following services, FACEtime families have the opportunity to share a Shabbat meal as an intimate community. Families, for example, may celebrate Shabbat dinner at the home of one of the clergy. There are alternative family experiences offered if a family isn't able to participate in all eight Shabbat experiences.
Hebrew learning: Learners in grades K-2 learn using Hebrew through Movement. 3rd graders are learning letter recognition, using yoga to support the learning. Decoding and learning to read blessings begins in 4th grade. Each grade has a specific set of prayers learners need to master; the list is cumulative so, for example, the 5th grade list includes prayers from the 4th grade list. There is a Google doc for each child that tracks his/her progress. This Google doc is shared with the educator and the education director. Some vocabulary is introduced, but the focus is on skill preparation for leading a service (Bar and Bat Mitzvah) and home rituals such as Havdalah.
All students participate in grade-wide t'filah. The t'filot included in their service are based on the t'filot that are being studied in class.
What Were You Trying to Achieve with this Model?
FACEtime/HEBREWtime was introduced as a pilot about 5 years ago. Initially there was a focus group comprising families of the incoming 4th grade class, clergy, lay leaders, the education director, and teachers. The current one day a week came out of this.
Temple Beth El piloted this model to build relationships with families and take away silos present in the congregation. They aimed to create real Jewish time for families and to build stronger connections among the congregants and clergy. The model was also designed around the belief and hope that relationships being formed would give families more reason to continue as active members after their child became a Bar or Bat Mitzvah. In the past, there were very few families attending services on Shabbat. Now there is a packed house on Friday Night Live. FACEtime has become an integral part of congregation and there is currently a 60% retention rate of families continuing after Bar Bat Mitzvah. The education team sees this is a result of the true relationships that have been formed with families.
The congregation has found that the families and learners love FACEtime  and their family time together.
Key First Steps and Recruitment Plan:
People were excited to try something new. They had an initiative and a shared goal. The team found that transparency was key. They let everyone know that this was a pilot, what it would look like, and what the desired outcomes would be.
Role of governance and Clergy:
The clergy have been integral in creating the vision and in implementing FACEtime. The clergy, for example, were involved in the focus groups, they lead Friday Night Live, and they open their homes for Shabbat dinners. The clergy are 100% integrated into FACEtime.
Budget:
Initially, there was a targeted funder for the FACEtime pilot. After families had experience the new model and chose to be part of it, there was a slight increase in tuition to cover the cost of FACEtime/HEBREWtime. Families who opt to be part of the FACEtime model pay about an extra $100. This is generally to cover the cost of dinners.
Hiring Needs:
FACEtime: Two educators (in addition to the clergy) are present during family FACEtime experiences. One of these educators is the grade's classroom teacher. This supports connecting what takes place in the class with FACEtime as well as building relationship with families.
HEBREWtime: Optimal for Hebrew coach to also be the classroom teacher.
Relationship of Model to Congregational Learning System:
This is an alternative to a 2-day model. The majority of families choose to be part of the FACEtime model.
How Do You Describe Your Congregation?
Reform congregation; 690 membership units; 3 rabbis and 1 cantor; a Director of Education for K-12 and family programming; Early Childhood Director
Supplementary Materials Include:
---

Model Overview | Model Adaptation Description | Model Adaptation Narrative