The Why and How of Thriving in Jewish Education: Presenters
RETREAT INFO & REGISTRATION | PRESENTERS | SCHOLARSHIPS
---

Mollie Andron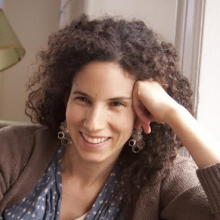 Mollie Andron is the program director at Amplifier. She holds a double Masters in Midrash and Jewish Experiential Education from the Jewish Theological Seminary, and a BA in Religion from Bard College. Mollie spent her childhood growing up between the US and Israel. She has worked in a variety of educational settings, including international human rights organization, elementary school, outdoor education, theater education and Summer camp. When Mollie isn't working she is spending time with her family, other humans ( big and small), the stories that we tell ourselves, plays and playing, cooking and eating, traveling, sunglasses, singing, reading children books, staring at people on the subway until they have to look, breaking down barriers, crossing thresholds and reading Midrash.
Sam Feinsmith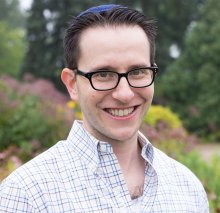 Rabbi Sam Feinsmith has been a leading educator in the world of Jewish contemplative learning and teaching for over fifteen years. Serving as a consultant on a number of innovative mindfulness-based projects related to spirituality, prayer, character, and education, he has conducted Jewish meditation workshops and retreats for young children, teens, and Jewish educators and community leaders. After fourteen years of teaching Jewish mindfulness to teens and educators in NY and Illinois, Rabbi Feinsmith currently directs the Institute for Jewish Spirituality's national Educating for a Jewish Spiritual Life Program for Jewish educators.  He lives in Evanston, Illinois with his partner Sarah-Bess and his daughter Elanit.
Naomi Less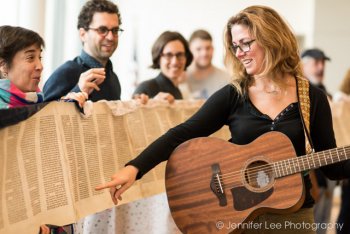 Naomi Less is a Brooklyn-based, internationally celebrated singer/musician, composer, ritualist, activist/educator and radio host of Jewish Rock Radio's "Jewish Women Rock Show". Naomi serves as Associate Director and one of the Founding Ritual Leaders of Lab/Shul. Naomi is also the co-director of  Songleader Boot Camp Teen Chavurah.
Her musical, educational and spiritual training comes from JTS Davidson School, the Institute for Jewish Spirituality, ChangeCraft (formerly Center for Leadership Initiatives) and Northwestern University. Naomi co-created a touring multidisciplinary traveling performance piece that premiered in NYC March 2018, called TRYmester: Jewish Fertility Journeys Out Loud. She serves Vice President is Uprooted: a Jewish Response to Fertility Journeys.
Yoni Stadlin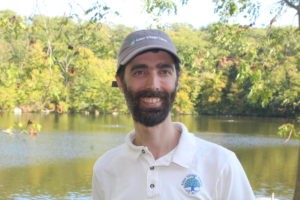 Yoni is a passionate and talented educator, activist and community builder, founded Eden Village Camp in 2008 with his wife, Vivian Lehrer Stadlin. In 2010, the Jewish Week recognized Yoni and Vivian as two of the "36 under 36" (the 36 most influential Jewish leaders under the age of 36). Yoni holds an M.A. in Informal Jewish Education from the Jewish Theological Seminary and directed the 92nd Street Y's science and nature day camp for two years, where he garnered rave reviews from campers, parents, and staff. He is a veteran educator for the Teva Learning Center, the country's leading Jewish environmental education program. Yoni has taught Judaism and environmental justice internationally with the American Jewish World Service, taught environmental science from an educational sailboat on which he lived, co-organized earthquake relief trips to India and Turkey, and led Birthright Israel trips. In 1999 and 2006, Yoni spent several months living aloft in ancient redwood trees that were slated to be cut, as an environmental protection initiative. Today, those trees are alive and well. Yoni has a natural gift for sharing his vision, leading raucous song sessions and connecting with people of all ages.
Emiliya Zhivotovskaya
Emiliya Zhivotovskaya is a leading voice in the world of positive psychology and the science of flourishing.  She is the CEO and founder of The Flourishing Center, and creator of the acclaimed Certification in Applied Positive Psychology (CAPP) program offered in 13 cities across the U.S., Canada and online worldwide (www.GetCertifiedinPP.com), which has trained over 1,200 practitioners to date.  She is the creator the Bounce Back Better® (B3®) Resilience Program, Applied Positive Psychology Coaching Certification, Flourishing Skills Group® (FSG®) Program and co-creator of the Positive Education Certification (PEC) Program.  Emiliya is one of the first 60 people in the world to hold a Master's Degree from the University of Pennsylvania in Positive Psychology and is currently pursuing her Ph.D. in Mind-Body Medicine from Saybrook University, where she also an adjunct faculty member.  Emiliya is one of only 800 people in the world to hold a Master Certified Coach (MCC) credential with the International Coaching Federation (ICF) and holds over a dozen certifications in modalities ranging from coaching to yoga, Reiki, intenSati, Thai massage, biofeedback, motivational interviewing and more.  
She refers to herself as a pra-cademic-prenuer emphasizing her work as a practitioner, academic and entrepreneur, empowering others to apply research in a sustainable way that drives individuals, organizations and communities to thrive. Prior to her work in the science of wellbeing, Emiliya was a professional party entertainer. She educates in a way that entertains and enables people to connect to each other. She integrates these tools into a unique approach to resilience, vitality and mind-body health, inspiring and empowering others to craft a life of thriving.
More presenters will be added to our website in the weeks to come.