From Here to There: A Passover Story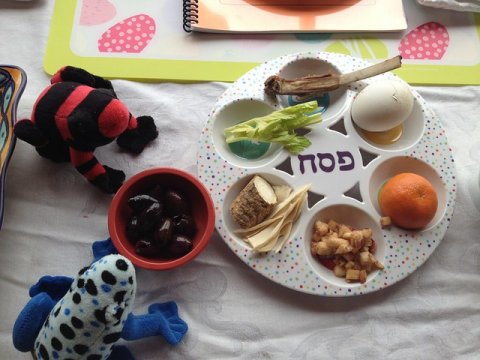 About 20 years ago, I had the privilege to learn about Pesach from the master Rabbi and scholar, Adin Steinsaltz.  I don't really remember much of what he taught. One thing, however, stuck in my mind. He said that the essence of the Exodus story could be distilled down to: "Once we were there and now we are here." 
It sounds simplistic except, the more you think about it, it is a stunning way to represent that for us, "there," where we once were, and "here," where we now are, are constantly moving targets.   Pesach is a story of continuous transformation—of moving from one place, or one state of being, to another, a better one; one with infinitely more promise and potential. M'Avdut L'Herut, from slavery to freedom. From helplessness to hope. From impotence to generativity. From oppression to liberation. From fate to destiny. From constraint to choice.  The truth of human existence is that we are always moving-- psychological nomads-- always transforming, always becoming, whether we embrace it, or see it, or choose it.  Whether we leave it to chance or choose to own it. Once we were there and now we are here.
It is the Seder's job to teach us that movement from enslavement to freedom is a collective project.  Each of us seeks to experience liberation as if we were there individually when the redemption occurred. We also read that it doesn't matter if we are chachamim, translated by Rabbi J. Soloveitchik as creative geniuses, nevonim, what he calls, philosophers, or yodeim, purveyors of practical wisdom: we can't do it alone. We need all three. It takes a multi-perspective design team to solve the problem.  Elders and children. The hungry and the well-fed. The expert and the ignorant. No wonder that Moses isn't mentioned in the Haggadah.
As I wind down my tenure at The Jewish Education Project, I have spent a lot of time thinking about all the people in my family and professional life, who have helped me navigate my own journeys M'Avdut L'Herut.
I have thought a lot about my family. My maternal grandfather, mother, and father raised me to love Judaism, Israel, and people from all walks of life; to be compassionate, generous, curious, and disciplined. Our lives are so intertwined with family that it is impossible to pick apart the myriad influences we have upon each other, shaping who we are and who we become. I can say for certain though, that I never would have considered a career in Jewish education if it weren't for my wife, Lorraine. Her decision to pursue graduate work at the Jewish Theological Seminary became the launch pad for my career in Jewish education.  People at The Jewish Theological Seminary opened doors for me, and one at a time I entered them.  It was Lorraine, however, who saw into my heart and mind long before I did, and pushed me, gently but resolutely, in the direction I took and that made all the difference.
(Robert Sherman, CEO of The Jewish Education Project.)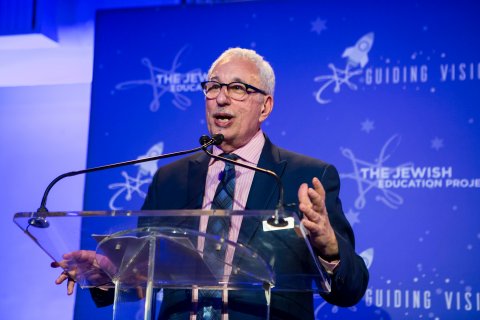 I wasn't always fully conscious of it, but I have never been alone on this professional journey. I didn't know it, I mean really know it, until I had an epiphany about 30 years ago, the year before I left the San Diego Jewish Academy for the Board of Jewish Education in San Francisco (now Jewish Learning Works).  The San Diego Jewish Academy grew rapidly during the years I was there, doubling in size to well over 500 students, outgrowing one of our two campuses, and expanding into a high school program after merging with another school.  We were perceived as a credible competitor to the top private and public schools in La Jolla.  By most measures I was a success—and the school was a success—and yet, I felt isolated, stuck in some inexplicable narrow place, a mitzrayim. I felt terribly alone, and I clearly remember waking one night and sobbing from fear and frustration in my wife's arms because I felt so trapped and constrained.
Fortuitously, I was given the chance to spend a week at the Center for Creative Leadership in Greensboro, N.C. and what I learned there changed everything. I learned that the reason I felt so isolated was because…I isolated myself.  In the interpretation of my 360 review, I learned that I was perceived by most people as wildly innovative, and deftly political. I was also, however, perceived as consumed by my own vision, and little interested in what anyone else felt or thought, unless they had something to contribute to my goals. Put bluntly, I was perceived as not really caring much, or terribly curious about, others and what was on their minds and in their hearts. Let me be clear, I didn't see myself that way, but others did.
It hit me like a ton of bricks and I realized it wasn't going to get any better unless I changed; unless I shifted my leadership style. However, everything I tried when I returned to San Diego failed—call it homeostasis—the more I tried to change the more the system worked to keep things the same—until I decided to make a fresh start in San Francisco.  It took a physical move to get from there to here.
In San Francisco, at the Board of Jewish Education, I started to leave my personal mitzrayim. I changed my leadership style by asking colleagues what mattered to them, professionally and otherwise, and took interest in their professional work. I hand wrote notes every day. At first it felt a bit false and forced. But that steadily changed. I had to get from there to here, and if it weren't for my wonderful colleagues in San Francisco such as Toby Rubin, I never would have gotten there. Because change, even personal change, is a collective project.
I've been asked many times to explain how The Jewish Education Project (then The Board of Jewish Education of Greater New York) moved from there to here. It took many years and the efforts of many people inside and outside of the organization. This much I know:  you can't transform a 100-year-old legacy organization without a compelling sense of purpose—a promised land. You may not know exactly what it looks like at first, but you have faith that it is there. You must wear your core values like skin—they express your identity and they are what holds everything together. You must have the financial resources to bring it all to life—im ayn kemach, ayn tora—without bread there is no Torah.
During my tenure at The Jewish Education Project, we could not have accomplished our success, nor can we continue to have impact,  without the committed and enlightened partnership of the UJA-Federation of New York. We have been the beneficiaries of guidance, coaching, cheerleading and financial support from UJA under the professional leadership of John Ruskay, Alisa Rubin Kurshan, Deborah Joselow, and Eric Goldstein, as well as many of UJA's lay leadership. 
And most importantly, you must have the right people doing the right things. And they must be free to pursue the things about which they are most passionate. It is always about the people.  At The Jewish Education Project, I have been blessed to work with fabulous teammates such as Bill Robinson, Barry Salter, Deb Friedman, Marty Schloss, and Abby Knopp. I know that the organization will continue to flourish and to create ever greater impact in NY and nationally under the leadership of my successor David Bryfman.
As the Seder and Pesach story teach us, the movement from slavery to freedom, from helplessness to hope, is a collective endeavor. It takes parents, children, friends, professional colleagues and volunteers to leave our Mitzrayim and arrive in our Promised Land. Wishing you a Chag Sameach.
Robert Sherman is CEO of The Jewish Education Project. 
**Adapted from remarks delivered by Robert Sherman at The Jewish Education Project Benefit on April 11, 2019.
The image in the post is from Flickr user Rachel Barenblat and is being used under a Creative Commons license.