Network Leader Spotlight: Cantor Gustavo Gitlin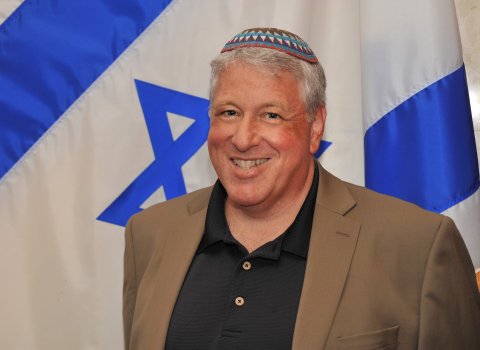 The Jewish Education Project has 37 educator networks for everyone from day school principals to part-time educators. In the Network Leaders Spotlight series, Suri Jacknis, Director of Educator Networks, introduces us to a few of the hundreds of educators that make The Jewish Education Project networks strong, vibrant, and powerful communities.
Cantor Gustavo Gitlin has participated in the Long Island Family Learning Network for over ten years.  Why?  Because he genuinely loves the people in the network, has built lasting relationships with his colleagues and enjoys considering the topics and challenges that arise in engaging today's families in Jewish life. "When I need something, I reach out to others in the network," Cantor Gustavo explained during a conversation over the summer. The cantor at Congregation Tifereth Israel Glen Cove, a Conservative synagogue with an intergenerational feel, he brings his passion for community-building both to the network as well as to his work in the congregation.
Cantor Gustavo has been able to model his approach to thriving by leading guided imagery exercises and other mindfulness strategies as part of our Family Learning Network meetings. 
Cantor Gustavo instructed us to close our eyes and imagine merging with a mountain.  We felt the peak of the mountain and looked below, and we noticed how the mountain changes with the seasons.  Yet we felt the strong groundedness of being a mountain and being so timeless.  We observed that although things can change on the outside, that the inner core of the mountain is solid and strong.  We identified with having such strength inside of us, despite the many changes that may happen on the outside.  We literally felt what it is like to be grounded and secure.  We named this Jewish value of inner strength as something we all have inside of us.
On other occasions, Cantor Gustavo has also taught and led our network in song, enhancing our exploration of Jewish music as a way to build community.  We personally feel the power of connection that flows from the participation in the act of singing together. We talk about finding more opportunities for introducing music into our work with families.
"This is not new to Judaism," Cantor Gustavo remarks.  "Jews have been experimenting with chanting, mantras, meditation and singing for centuries."
During our network meetings, Cantor Gustavo offers a case study from his work so that network members can learn from his experimentation in searching for new ways to involve families in spiritual experiences.   He acknowledges that most people want things to be personally relevant and meaningful, customized to their needs and interests, their priorities and schedules.  Many people are not looking to be part of a community because of the worship services or because they want to put on Tefillin, he explained.  According to Cantor Gustavo, they are looking to experience spirituality in new ways.
Having learned mindfulness-based stress release, MBR, for his own personal growth, Cantor Gustavo developed a meditation practice and realized that this could combine naturally with Jewish values and his own Jewish prayer experiences.  He began experimenting with leading alternative prayer experiences both at a large beautiful nature preserve in Glen Cove (Garvies Point) and in people's homes. Cantor Gustavo discovered that the people who came to participate in these spiritual experiences were not the same people who attended the regular Shabbat services in the sanctuary.  People who attended the alternative options enjoyed coming together outside of the synagogue walls, participating in guided imagery, chanting and learning various niggunim and songs, and heightening their own appreciation of their senses.  In this stressful world with a bombardment of inputs, they appreciated the relaxation, the calm, the pause to simply breathe, declutter their minds and open their hearts.
He has invited his Family Learning Network colleagues to participate in the spiritual experiences he leads for families, hoping to inspire and empower other colleagues to experiment with his unique combination of liturgy, mindfulness, Jewish values, music and meditation.  Cantor Gustavo leads by example, as he (and often his own family members) participate fully in these creative spiritual experiences as their own spiritual expression.  Participants observe and emulate Cantor Gustavo's infectious sincerity and his being authentically present with them in this shared experience.
Cantor Gustavo is excited to collect the suggestions and wisdom of the network to continue to shape his own developing practice of creating engaging spiritual experiences for today's families.  Cantor Gustavo is a remarkable network leader who is able to enhance our culture of experimentation, increase network connections and sense of community and bring his own rich thinking about today's families to push colleagues to think in many new ways.
Suri Jacknis is the Director of Educator Networks for The Jewish Education Project. Register for a network for the 2019-2020 school year.