Project-Based, Choice-Based Learning: J-JEP: Model Elements
Joint Jewish Education Program of Pittsburgh
Congregation Beth Shalom and Rodef Shalom Congregation, Pittsburgh, PA
Summary | Model Elements | Stories of Impact
---
Not all models fit neatly into one of our major groups (or "buckets"). As new innovations emerge and new experiments are designed, we envision more models may cross-over or be outside of these buckets. In the future, we will most likely identify new groupings based on the success of these models.
J-JEP could be placed in a Project-Based Learning or a Choice-Based Learning bucket.
---
MODEL ELEMENTS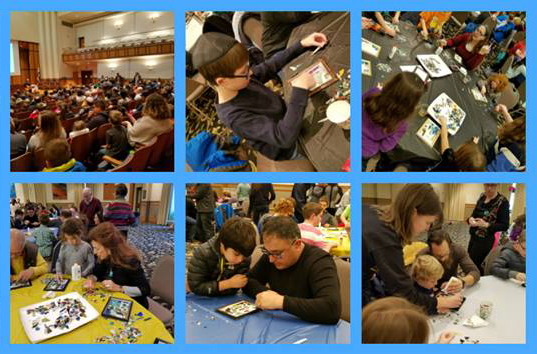 Who are the Learners?
In the fall of 2013, there were 110 students in K-7; there are now 190 students in J-JEP. J-JEP continues to grow. The majority of the learners are from Rodef Shalom and Beth Shalom.
The program is also open to the community. In the 1st year, a non-congregational member pays only for tuition. In the 2nd year, non-congregational participants also pay a community fee. This community fee is high and is per child rather than per family. Despite the higher fee, some families choose this because they do not want to be a member of either congregation. Yet, allowing non-members to participate has been a large feeder: each year J-JEP starts with about 2 dozen kids who are from the community and at end of the year about half of those families join one of the 2 congregations.
Who are the Educators/Learning Facilitators?
The vast majority of the educators are professional educators. There are 21 part-time educators overall.
There is a madrichim component for 8th to 12th graders. J-JEP and both congregations push for the learners to continue their studies in the community high school, but madrichim do not need to be attending the high school. Both congregations feel this allows teens who would not otherwise be connected to interact and engage in the Jewish community. In 2017-2018, there were about 6 madrichim, but they expect the number to be much higher beginning this year since the graduating classes have grown in number.
What is the Learning? How is it Designed?
The educational team of J-JEP designed a curriculum that includes project-based learning, electives and Hebrew options. The team felt that there were larger differences in the Hebrew approaches and in the goals for Hebrew education than in Judaic studies and, therefore, designed the learning so that all of K-7 is together for Judaic studies even though there are four distinct Hebrew tracks from which to choose.
Judaic Studies:
J-JEP uses the Chai Curriculum as their primary curricular resource, which was originally created for Reform congregations and has a Conservative adaptation. This was a natural choice and both congregations had been using this curriculum prior to J-JEP. When learners come to areas that differ between the Reform and Conservative approaches, the differences are presented in a comparative way. This takes place in classrooms on Sunday mornings from 9:30-10:30 and from 11:00-12:00. There is also 20 minutes of Hebrew DVASH (see below about DVASH) on Sundays which complements the weekday Hebrew component.)
J-JEP educators respond to the everyday life of the learners. For example, being near the University of Pittsburgh and Carnegie Mellon learners are exposed to a variety of current events and political issues. J-JEP educators design learning to answer students' questions about these issues. The educators also take advantage of local resources. In one case, J-JEP invited a professor of biblical archeology (described as a real-life Indiana Jones) to meet with learners and tell about digs in Israel.  Following this meeting learners went on a field trip to the Kelso Museum, a Near East archeology museum.
Agency of choice - giving options to all learners (K-7) - is central to J-JEP and is very apparent in their digital badges and Hebrew programs.
Digital Badges has been ongoing for several years as part of the Judaics program. J-JEP uses the platform YouTopia to manage and track each learner's journey through BadgeQuest, a digital badge program for all learners (K-7). The J-JEP Director worked with an educational technology expert Sarah Blattner of Tamritz to create BadgeQuest. BadgeQuest is built on the cycle of discover, play, and create. Students begin by learning about a particular value and then asking where they see that value being played out in everyday life. Students continue learning as they create their own way of putting this value into practice. Working toward the Supermensch badge, a group of students created a buddy system; they recognized that it can be hard to be a new student in an older class, such as 5th grade. Another group of students started their own hevruta studies and bible study group; they earned the Rock n' Scroll badge.
In the first year of BadgeQuest, everyone worked on the same badges at that same time. This was exciting and brought a lot of conversation, but in some grades, it did not feel natural. This past year, each grade worked on a few badges that connected to their class curriculum. Educators felt that it worked better in the classroom but was less exciting. The educators are still working on finding a happy medium.
J-JEP celebrates the badges on Sundays, displaying artifacts of learning (pictures, videos, poems, etc.) on a large screen for all to see.
The educational team regularly surveys the children, asking not only how the elective class was, but also what is it they are interested in. This data is used to keep J-JEP in alignment with students' needs and interests.
T'filah:
All K-7 students join together for a half hour of t'filah (10:30-11:00). Prayers are led by Rabbi Sharyn Henry and Cantorial Soloist Molly May. All prayers – in Hebrew, transliteration, and in English – are displayed on a large LCD screen along with new student artwork and other projects. The display of students' work is changed weekly. J-JEP follows the basic outline of the service, making additions and changes to reflect current events and time of year. In the middle of the service, students say the blessing for studying Torah. The rabbi then asks students to share what they learned that morning, and for teachers to share the kind of learning they will be doing in the next hour. The J-JEP director noted that these are like "commercials and previews" from teachers and that the service is fun and almost has the feel of a pep rally.
T'filah is used as a learners' minyan. In the case of t'filot that are different for Reform and Conservative, they talk about why the t'filot are different, and when and why that happened. The educators feel that this gives children an appreciation of why their families chose a specific route and that it makes the children more comfortable with their family's choice.
Hebrew:
J-JEP's belief that no two households have the same goals for their children drives them to offer a variety of Hebrew options. Formal Hebrew begins in 2nd grade. All Hebrew options are a la carte; participation in a particular option is not related to the congregation to which one belongs.

Option 1 – Family Hebrew: Parent and child get together with others before religious school for an hour. Many of these participants come in from a distance so J-JEP provides coffee, bagels, and juice during this session. Family Hebrew is liturgical and aims to prepare the student for Bar/Bat Mitzvah. Families meet for an hour in the classroom and then expect 1 hour of homework to be completed during the week. Family Hebrew is intended to be by grade level and to create communities. There are, however, some new students who join and aren't at the same level as their peers. Consequently, not all of the students in Family Hebrew groups are at same grade level. The J-JEP Director noted that they are finding that these families are now more interested in conversational Hebrew and are looking into adding a digital conversational Hebrew component. Family Hebrew is currently the largest group; generally made up of families from the suburbs, families with parents who didn't have their own Bar/Bat Mitzvah and want to participate in their child's, or people in interfaith marriages.
Option 2 – Conversational and Liturgical Hebrew: This option, which meets for 2 hours on Tuesdays and Thursdays, follows Beth Shalom's previous model. Students study liturgical Hebrew mainly by grade level for the first hour. During the 2nd hour students meet based on their Hebrew level for conversational Hebrew. This option uses more Israeli than American materials for conversational Hebrew. The highest conversational Hebrew level uses Neta with a digital component. The Community High School uses Neta, so when the J-JEP students go onto Community High School they aren't starting at level 1 of Neta. J-JEP tries to keep a 1 to 8 ratio, but this program has grown and there are staffing and space constrictions.
Option 3 – Liturgical Hebrew: This option meets on Wednesdays for 2 hours at Rodef Shalom. The session begins with a 30-minute Learners' Minyan during which students practice the prayers they are learning in the classroom. This is followed by 1.5 hours of learning in classrooms. Educators use DVASH (Dynamic Vision for the Active Study of Hebrew), an approach created for children who are dyslexic but can be used with any learner. There are only about 30 students in this group and they are mostly from an independent school in the neighborhood.
Option 4 – Online Liturgical Hebrew: Students do online work at home during the week using Mitkadem. Every 3 weeks, students stay on a Sunday morning after religious school to meet for 15 minutes individually with a teacher to check their progress, and for another 45 minutes to play Hebrew games and connect with other students who are learning online. This program is growing. The educators carefully monitor students' progress and check how often the students are logging in. If students aren't logging in as they should by December, they can't continue in this track. The J-JEP Director feels that students in this option are learning well and putting in a good amount of work on their Hebrew. There are two teachers who monitor the online Hebrew.

The educators recognized that there is a greater likelihood of the overall Hebrew program working if parents have the same Judaic vocabulary as their children. With this in mind, they created parent education around this and now have a whole arm of J-JEP that is for parent education with an extensive menu of electives for parents. This parent education has become a good source of revenue and brings parents into the congregations.
What are the Learner Outcomes?
The overall goals of J-JEP are that learners:
Become lifelong Jewish learners and participants knowledgeable in Torah, Social Action, Worship and Prayer.

Increase knowledge and comfort with conversational and liturgical Hebrew.

Develop positive relationships with their Judaism, as well as a connection to our school, our synagogues, our families, the larger Jewish community and to Israel.
Assessment is done in a variety of ways.
In all Hebrew options, except for Family Hebrew, students are tested three times a year: before the year starts, in December and in March. Students in Family Hebrew are only tested for their initial placement.

BadgeQuest, the digital badge program, has assessment built into it. There is a record of each student's progress.

On the last day of school, there is a celebration of learning. Everyone works together to create a museum that exhibits what students have learned during the year. For example, students display their own illustrated Torah which they created through the year as they studied a new parshah each week. Some of the exhibits are live – students showcase a living wax museum in which each child presents a monolog or song as if they are a particular person they studied. Students might also create a video that reflects their learning.
Where Does the Learning Happen?
All K-7 learners meet at Rodef Shalom on Sundays. This space was chosen because it can fit the growing number of learners in J-JEP, is convenient and has a spacious parking lot. On weekdays, the different Hebrew tracks take place at Beth Shalom, Rodef Shalom, and online.
When Does the Learning Happen?
All of K-7 attends Sunday mornings: 9:30 am – 12:00 pm at Rodef Shalom
9:30-10:30 Judaic studies class sessions
10-30-11:00 school-wide tefillah
11:00-12:00 Judaic studies class sessions
Hebrew (2nd-7th graders)
Hebrew option #1: Family Hebrew meets Sunday mornings 8:25 am – 9:25 am at Rodef Shalom

Hebrew option #2: Liturgical (1 hour) and conversational Hebrew (1 hour) meets 4:15-6:15 pm Tuesdays and Thursdays at Beth Shalom

Hebrew option #3: Liturgical Hebrew meets 4:30-6:30 pm on Wednesdays at Rodef Shalom

Hebrew option #4: online learning at home, paired with individual 15-minute meetings and 45-minute group meetings every three weeks following Judaic studies on Sundays at Rodef Shalom
Supplementary Materials Include: