When We Create: Empowering Children's Unique Voices Through The Arts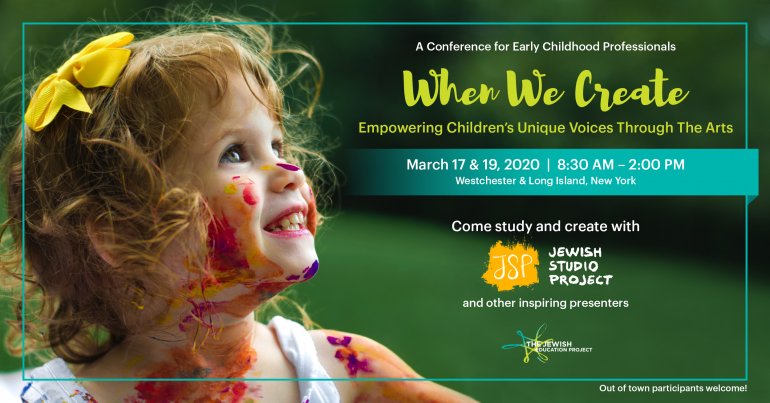 Experience an unforgettable interactive keynote presentation from the Jewish Studio Project, as well as workshops and immersive art studio experiences from multiple presenters. Participants will explore how to integrate the arts and Jewish content that help our youngest learners thrive.
CONFERENCE BEING HELD IN WESTCHESTER AND LONG ISLAND
 March 17th - Beth El Synagogue Center, New Rochelle, NY
VIEW WESTCHESTER WORKSHOPS HERE
March 19th - Temple Beth-El of Great Neck, Great Neck, NY
VIEW LONG ISLAND WORKSHOPS HERE
NOTE SOME SESSIONS ARE FULL
PLEASE CLICK HERE TO SEE SESSION STATUS UPDATED
CONFERENCE FEES:
$40 through February 14th  | After February 14th $45
Registration Closes March 4th
 
For your convenience, we have created printable versions of the conference workshops in black and white.

"The Torah begins with the creation story, in which God orders a chaotic, cosmic mess into an orderly world in six days. God's role as a creator is especially significant because it is in the context of creation that humans are described as being 'in the image of God' - B'tzelem Elohim"  (myjewishlearning.com)
"It is the supreme art of the teacher to awaken joy in creative expression and knowledge." - Albert Einstein
As Jews, we know it takes creativity to thrive in the world. We need creativity today where so many issues we face demand every more innovative approaches and solutions. The disposition to create begins as soon as we are born, blossoms in early childhood, and if we foster it, can continue to enrich us throughout our lifespan.
An aspect of b'zelem elohim is that we are all unique individuals and deserve to be loved and respected for the unique voices and perspectives we bring to the world. Immersing in and creating through all the myriad forms of artistic expression - dance, visual art, theater arts, music and culinary arts, to name just a few - are vital pathways for children to share their unique "voice" with each other and the world. When we create we are both most like God, and fulfilling our greatest human potential. 
Nurturing Creativity in Early Childhood
In their book, Nurturing Creativity (NAEYC), Rebecca Isbell and Sonia Akiko Yoshizawa remind us that, "Experts, business leaders, and educators identify several skills and abilities that today's young children need now and in the future (Trilling & Fadel 2009, 8-11; AMA 2010, 3)." Children need to be creative thinkers, flexible, be able to problem solve, and generate innovative ideas. "To nurture these skills and abilities, early childhood classrooms must include creative experiences that intrigue children, encourage problem solving, evoke a sense of curiosity and initiative, foster innovative ideas, and include open-ended materials that challenge children's thinking. Young children need opportunities to follow their interests, make choices, collaborate with others, and find meaning in their experiences."
During the conference you will: 
Immerse in the Jewish Studio Project's unique exploration of Judaism and creativity. 
Participate in different art modalities and reflect on your creative process.
Experience new approaches to engage young children in exploration through the arts.
 Learn how the arts support children's cognitive, social-emotional and spiritual development.
Meet and network with new colleagues.
Our Conference Presenters INCLUDE:
Rabbi Adina Allen and Rachel Brodie, Jewish Studio Project, Berkeley, California
Ellen Alt, Artist, Educator, and Community Art Facilitator
Dr. Tamar Andrews, Sr. Director, Early Childhood Education and Engagement, Temple Isaiah, Los Angeles, CA (Long Island Only)
Hadar Rising Song Institute Gedalia Penner (Long Island), Rena Branson (Westchester)
Jonathan Shmidt Chapman, Project Director, Aggadah Adventures at CBST
Beth Gonzalez-Dolginko, Licensed Creative Arts Therapist
Asya Gribov, Museum and Experiential Jewish Educator and Community Connector
Lauren Jost, Founder/Artistic Director, Spellbound Theatre
Robin Koo, Former Program Director, Teaching Beyond the Square
Amy Miller, Assistant Director, Larchmont Temple Nursery School, Larchmont, NY (Westchester Only)
Vicki Perler, Preschool Director, Temple Beth El of Great Neck (Long Island only)
Tom Pnini, Admissions Coordinator and Art Studio Teacher, Congregation Beth Elohim, Brooklyn, NY
Erica Strongin, Educator and Former Art History Specialist, Westchester Day School, Mamaroneck, NY (Westchester Only)
Teaching Beyond the Square Jennifer Carvajal, Robin Koo, Amanda Ferguson, Wendy Gelsanliter, Susan Weseen
Kathryn Ulrich, Movement and Healing Arts Specialists, Maha Moma

As an urban art studio and beit midrash, JSP activates creativity in individuals and organizations to make life more meaningful, Judaism more vibrant and the world more just. JSP has pioneered a groundbreaking methodology, the ​Jewish Studio Process ​ , that combines Jewish text learning and creative arts exploration to investigate relevant questions about our lives and tradition. Since launching in 2015, JSP has become a leading resource for creative learning in communities across North America. ​Through​ immersives, trainings, professional development engagements and thought leadership, JSP has served over 8,000 participants, offered more than 350 programs and collaborated with 65 leading organizations seeking creative approaches to Jewish learning in just four years. JSP has built a robust professional development and training practice ​that has already been sought out by dozens of organizations including: Hillel International, Schusterman Foundation, SVARA, Jewish Emergent Network, HUC-JIR, Sefaria and Wexner Foundation.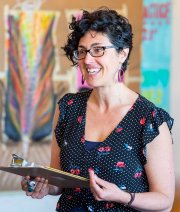 Rabbi Adina Allen, ​is Co-Founder and Creative Director of Jewish Studio Project (JSP). Integrating a lifetime of experience in the expressive arts with her rabbinic training, Adina has pioneered a methodology for the integration of Jewish learning, spiritual reflection and creative expression that she has brought to thousands of Jewish educators, professionals and lay leaders across the country. Her original research on art making as a methodology for generating new midrash was published in the CCAR Journal in 2012. A contributing writer to the Huffington Post, Patheos, and My Jewish Learning, her work has been published widely. Adina was ordained by Hebrew College in 2014 where she was a Wexner Graduate Fellow. She is a recipient of the Open Dor Fellowship, the Upstart Fellowship and the CIRCLE Interfaith Leadership Fellowship. Adina is a recipient of the 2018 Pomegranate Prize for emerging Jewish leaders from the Covenant Foundation. Adina resides in Berkeley, CA with her husband Jeff Kasowitz (co-founder and Executive Director of JSP) and their two amazing young kiddos.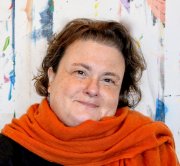 Rachel Brodie, ​Senior Educator ​ ,​ is a Jewish educator working primarily with adult learners. She specializes in designing and facilitating professional development opportunities for other Jewish educators. From 2011 to 2016 Rachel served as the Chief Jewish Officer of the JCC of San Francisco. Prior to that (2004-2011) Rachel was the co-founder and Executive Director of Jewish Milestones: a not-for-profit, educational resource for Jewish life cycle ceremonies. A New Yorker by birth and temperament, Rachel settled in the Bay Area in 1997 after spending a year in Israel on a Melton Senior Educator's Fellowship at the Hebrew University in Jerusalem. She holds a master's degree in Rabbinic Literature from The Jewish Theological Seminary and a B.A. in Literature and Society from Brown University