Jewish Futures Conference 2019: Presenters

FUTURES HOME | CONFERENCE 2019 | PRESENTERS | WORKSHOPS | SELECTED RESOURCES | PODCAST
---

Pride and Prejudice: Jewish Education's Battle Amid Growing Anti-Semitism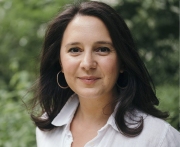 Bari Weiss is a writer and editor for The New York Times opinion section, who has been recognized as a leading journalist and commentator. Since joining the New York Times, Bari has changed the way we think about important issues, including anti-Semitism, #MeToo, Freedom of Speech on college campuses, and Jewish identity. Bari's debut book How To Fight Anti-Semitism will be published by Crown in September 2019. Before joining The New York Times, Bari was an opinion editor at The Wall Street Journal and their associate book review editor. For two years, Bari was a senior editor at Tablet, the online magazine of Jewish news, politics, and culture, where she edited the site's political and news coverage. A native of Pittsburgh, Bari attended and had her Bat Mitzvah at The Tree of Life Synagogue, where the recent murderous shooting occurred. She appeared as a solo guest on Real Time with Bill Maher, her fourth appearance on the show this season, to discuss the Pittsburgh shooting. Bari has spoken at many prestigious venues, including the Chautauqua Institution and Aspen Ideas Festival, and has also interviewed several leading intellectuals and bestselling authors, such as Jordan Peterson and Yuval Noah Harrari. In July 2018, Bari was awarded the Bastiat Journalism Prize for what the judges called "her brilliant, incisive journalism that defends the cornerstone of individual liberty and civil society: freedom of speech."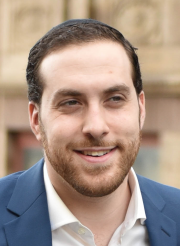 Yair Rosenberg is a senior writer at Tablet Magazine, where he covers the intersection of politics, culture, and religion. His work has also appeared in the New York Times, Washington Post, Wall Street Journal, The Atlantic, and The Guardian, and his writings have received awards from the Religion Newswriters Association and the Harvard Center for Jewish Studies. He has covered everything from misrepresentations of Orthodox Jews in the media, to Muslims and Jews in comic books, to political anti-Mormonism, and in his spare time, he creates bots that troll anti-Semites on Twitter.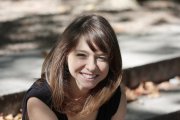 Yael Shy is the Senior Director of NYU's Global Spiritual Life and MindfulNYU, the largest campus-based meditation initiative in the country, and the author of the award-winning book, What Now? Meditation for Your Twenties and Beyond (Parallax, 2017). She teaches meditation regularly at NYU, MNDFL, an annual Jewish meditation retreat through the Pardes Institute and Or Ha Lev, as well as at colleges, universities, and Jewish institutions across the country. She is an alum of New York University, Northeastern University School of Law, and received meditation teacher training from the Institute for Jewish Spirituality.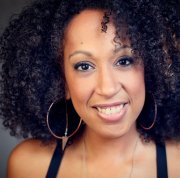 Melissa Carter serves as the Associate Director for Global Spiritual Life at New York University and is Head of Mindfulness Education and Innovation.  After a decade long career as a music business executive in a number of roles including hip hop management to digital sales and marketing for companies such as Violator Management, Warner Music Group, and Universal Music Group, Melissa embarked on a spiritual journey that inspired transformations in both her career and daily life.  For the last ten years, Melissa has served as a meditation teacher and holistic wellness coach and consultant.  In the last four years, her private practice brought her to 16 different countries to facilitate online group programs, workshops, and seminars focused on intuitive intelligence, personal narrative, self-care, and mindfulness.  She has worked with various companies, colleges and C+ executives to identify gaps and needs within their cultures to cultivate stronger mindfulness tools, connection and leadership.  At NYU, she offers a course through the Silver School entitled; "Answering the Call: Spirituality, Service and Social Change." Melissa serves as the New York facilitator for Connection Coalition, a non-profit offering Trauma Informed Outreach Mindfulness and Yoga training.  She is a birth/death doula and in her spare time volunteers for the Sean Casey Animal Rescue and New Sanctuary Coalition.  Melissa has been featured in Good Housekeeping Magazine, Billboard Magazine as one of their "Top 30 Under 30 Executives" and various mindfulness blogs and podcasts including The Naked Podcast and The Trailblazer Podcast.  Brooklyn now serves as home.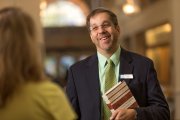 Rabbi Ron Symons serves as the Sr. Director of Jewish Life of the JCC of Greater Pittsburgh. In that capacity, he is the Founding Director of the Center for Loving Kindness.  Founded in 2017, the Center is designed to redefine 'neighbor' as a moral term while amplifying the long-held values of 'Love your neighbor as yourself' and 'Do not stand idle while your neighbor bleeds'.  Essential to this work is Ron's partnership with Rev. Liddy Barlow of Christian Associates of Southwest PA as they network hundreds of spiritual leaders through conversation, learning, and relationship.  Ron was ordained by the Hebrew Union College – Jewish Institute of Religion (NY '94) and has studied at the Hebrew University of Jerusalem and the Jewish Theological Seminary.  Rabbis Barbara and Ron are the proud parents of three emerging Jewish professionals poised to transform Jewish life for their generation.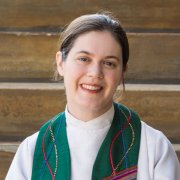 The Rev. Liddy Barlow became the first woman to be installed as Executive Minister of Christian Associates of Southwest Pennsylvania in April 2014. Christian Associates brings together 28 Catholic, Orthodox, and Protestant church bodies in greater Pittsburgh to make visible the unity of the church and work for the wholeness of communities.  As Executive Minister, Rev. Barlow leads the organization's projects and relationships, including its robust interfaith partnership with the JCC's Center for Loving Kindness. A New Hampshire native, she is an alumna of Mount Holyoke College and Andover Newton Theological School and is an ordained minister in the United Church of Christ. Rev. Barlow and her husband Gregory, a robotics entrepreneur, have two children: Pippa, age nine, and Edmund, six.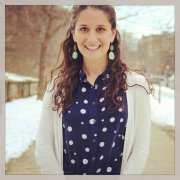 Rebecca Stone LCSW, CHT is a psychotherapist, performance coach, and group facilitator in New York City. She serves as the founder and clinical director of Brooklyn Somatic Therapy, a group practice specializing in somatic and experiential psychotherapy for adults and couples. She has received advanced training and certification in The Hakomi Method, Somatic Experiencing therapy, and Emotion-focused Couples Therapy. She also serves as a teacher-in-training for the Hakomi Institute. In addition to her clinical work, Rebecca works as a performance consultant and executive coach to non-profit and for-profit organizations, facilitating trainings on topics including emotional intelligence skill-building, business psychology, work culture and communication, and trauma first aid. A Wexner Fellow/Davidson scholar, Rebecca worked in the Jewish non-profit sector in management and fundraising for over a decade prior to her career as a psychotherapist. She lives and works in Brooklyn with her husband and two children.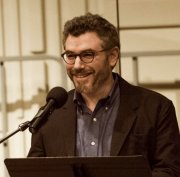 Dr. Ariel Burger, is the author of Witness: Lessons from Elie Wiesel's Classroom, which was an Indie Next List Pick, A Publishers Lunch Buzz Book, and which won the 2019 National Jewish Book Award in Biography. He is also an artist and teacher whose work integrates education, spirituality, the arts, and strategies for social change. An Orthodox rabbi, Ariel received his PhD in Jewish Studies and Conflict Resolution under Elie Wiesel. A lifelong student of Professor Wiesel, Ariel served as his Teaching Fellow from 2003-2008, after which he directed education initiatives at Combined Jewish Philanthropies of Greater Boston. A Covenant Foundation grantee, Ariel develops cutting-edge arts and educational programming for adults, facilitates workshops for educators, consults to non-profits, and serves as scholar/artist-in-residence for institutions around the U.S. When Ariel's not learning or teaching, he is creating music, art, and poetry. He lives outside of Boston with his family. Visit him at www.arielburger.com.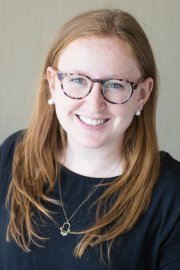 Dr. Alexandria Fanjoy Silver is from Toronto, and her research is primarily focused on is best practices in Holocaust education. She received her BA from Queen's University, her MA/MA from Brandeis and her PhD from the University of Toronto. Her doctoral dissertation focuses on the Toronto March of the Living program and the way in which learning about the Holocaust in Poland specifically impacts educational and identity-building goals. She converted to Judaism after her own Poland experience, in an interesting turn of events. She currently teaches Jewish history at TanenbaumCHAT Jewish day school in Toronto and wrote the curriculum for their new Grade 12 Holocaust course.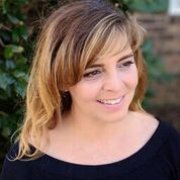 Shannon Foley Martinez, a former violent white supremacist, has two decades of experience in developing community resource platforms aimed at inoculating individuals against violence-based lifestyles and ideologies. Foley Martinez has worked in at-risk communities teaching and developing dynamic resiliency skills. She has worked for school systems, nonprofits, and community organizations.   She has participated in programs with such organizations as the UN Office of Counter Terrorism, the National Counterterrorism Center, Hedayah, The Center for the Prevention of Radicalization Leading to Violence, UN Women, and the National Academies of Science, Engineering, and Medicine.  Her story has been featured globally, including: The TODAY Show, NBC's "Left Field," the Atlanta Journal Constitution, the Associated Press, the Washington Post, Marie Claire magazine, Quartz, Al Jazeera America, and Georgia Public Broadcasting's "On Second Thought" program. She has been a commentator on such news outlets as HLN, CNN, Canada One and BBC radio. Foley Martinez has also assisted in training law enforcement officers, building programs for educators, and collaborating with tech companies like Google and Twitter. As the mother of seven children, she feels passionately about building empowered families and communities.  She believes that we all have the power to enact profound and fundamental change in our lives.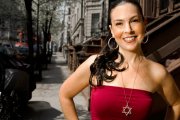 Vanessa Hidary is an internationally acclaimed Spoken Word Artist, Solo Performer, and Native New Yorker. Her first solo show "Culture Bandit" which chronicles Vanessa's coming of age during the golden age of Hip-Hop, was originally produced by LAByrinth Theatre Company. She has aired three times on "Russell Simmons Presents 'Def Poetry Jam' on HBO. She is the founder of The Kaleidoscope Project. A narrative-arts driven initiative sparked by a desire to highlight the stories of Jews of diverse racial and ethnic backgrounds, observance levels, and interfaith experiences. She has appeared at numerous LIMMUD conferences including South Africa and the UK and has been a featured speaker at the Lion Of Judah conference at the Jewish Federation's General Assembly convention in New Orleans, and at Tribefest in Las Vegas. Her popular poem, "The Hebrew Mamita," went viral garnering over half a million YouTube hits, igniting widespread discussion among Jews and non-Jews alike regarding the subject of identity. She has a 2 year old daughter who is obsessed with "Everything But The Bagel" seasoning from Trader Joes.

 
Speaker roster and information will continue to be updated.